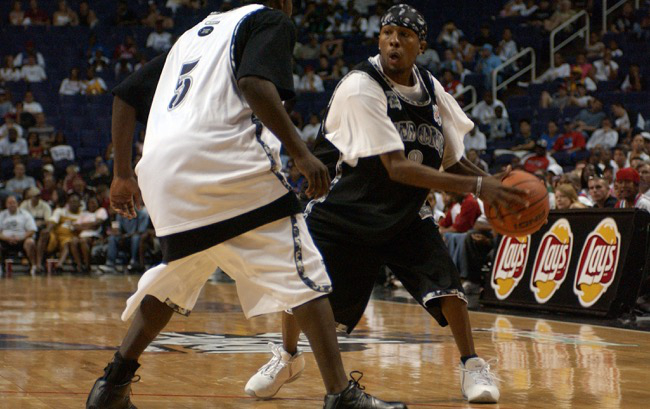 The streetball craze has come and gone, and though it was fun while it lasted, most of the colorful characters who populated the And1 universe (aside from maybe the Professor and Bone Collector) have disappeared from our cultural radar.
One of the most polarizing figures was Hot Sauce, aka Philip Champion, who became a global phenomenon almost overnight back in streetball's heyday.
These days, the well-past-his-prime ball-handling magician is plying his wares with a third-rate traveling streetball outfit called The Court Kingz, but that didn't stop him from chiming in about the recent internet sensation surrounding the Sacramento Kings' Nik Stauskas' new nickname that came about via divine intervention in the world of closed captioning. According to TMZ Sports, the O.G. Hot Sauce has taken umbrage with the fact that Stauskas' glorious new nom de guerre – Sauce Castillo – so closely mirrors his own.
More specifically, it had to do with the fact that the Kings are hosting a promotional "Sauce Castillo" night against the Utah Jazz Sunday in which fans will receive a free bottle of hot sauce.
"Everyone knows me as Hot Sauce. 2 Chainz shouted me out in one of his verses.  I've been in a Mountain Dew commercial. I've been in movies. Ballers around the league know I'd have a problem with this."

"At first, I could deal with them calling him 'Sauce' … But now that they're associating him with 'Hot Sauce??' I got a real problem."

"There's only one REAL 'Hot Sauce' … I don't know who Nik Stauskas is."
We've yet to hear about any current NBA players rushing to Champion's defense on this, so we're going to keep enjoying this until it eventually gets old which, of course, will be never.