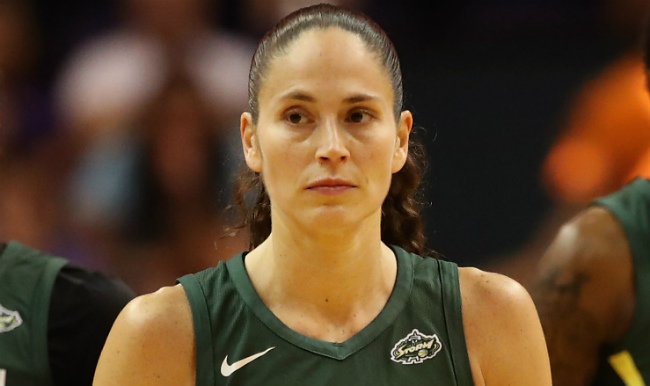 The 2019 WNBA season will begin soon, but the list of the league's top stars that could miss much of, if not the whole season is unfortunately growing.
Reigning league MVP Breanna Stewart is out for the season after rupturing her Achilles in the EuroLeague final, while former league MVP Maya Moore is sitting out the season to focus on her off-court ministry. Diana Taurasi is working her way back from back surgery, and Candace Parker is rehabbing a hamstring injury to start the season, although both are expected to return at some point.
On Tuesday, news broke that one of the league's all-time greats could miss the entire season as well, as Seattle Storm guard and 11-time All-Star Sue Bird will reportedly have knee surgery that may cost her the 2019 season.

That report comes from Arielle Chambers of High Post Hoops, and while it doesn't specify exactly what the knee injury is, says the timetable on the surgery is typically 8-10 weeks.
High Post Hoops has learned from two league sources that Sue Bird will miss much of the 2019 season, if not the entire season, with a knee injury.

The surgery's estimated recovery is 8-10 weeks, and dependent on rehabilitation, the super-vet and WNBA legend may or may not return.
With Stewart already out and now Bird, the reigning champs are entering 2019 without their leader in points, rebounds, and assists for potentially the entire season. It seems unlikely the team would want to rush the 38-year-old Bird back from a knee injury in a season that seems likely lost at this point, and the focus for Bird and Stewart will be on getting healthy and right, hopefully by the start of the 2020 season.
The Storm were expected to be favorites in the West again, but now the door is open for a team like the Aces, who just added Liz Cambage in a blockbuster trade, the Sparks, who have been retooling this summer as well, or the Mercury, pending Taurasi's health.