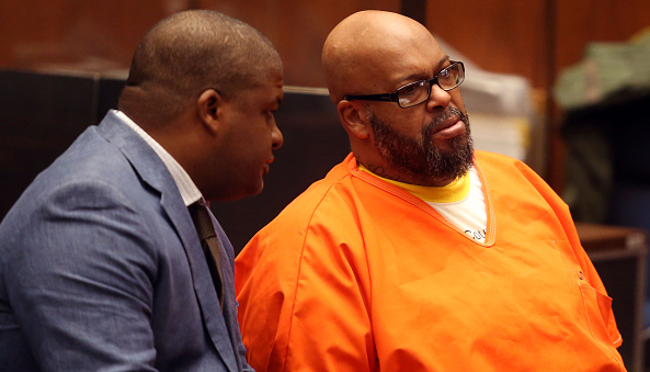 It hasn't been a great couple of years for Marion "Suge" Knight, the co-founder of Death Row Records who is currently facing murder charges stemming from an incident in 2015 during which he allegedly plowed his pickup truck into two men, killing one of them and injuring the other.
The incident reportedly started on the set of the hit biopic Straight Outta Compton and spilled over into a burger restaurant parking lot where the crime occurred. Knight is also facing separate charges for threatening the film's director, F. Gary Gray, over his negative portrayal in the movie.
Tuesday was a busy day for Knight in the Los Angeles courts, as a judge set his murder trial date for September. Shortly after, Knight was in front of another judge for a different hearing for his criminal threats proceeding against F. Gary Gary, where the judge somewhat curiously asked Knight for his NBA Finals prediction.
Via Marisa Gerber of The Los Angeles Times:
A few minutes later, during a separate hearing in the criminal threats proceeding, another judge asked Knight to return to his courtroom in May. The judge then turned to Knight, asking who he thought would win the NBA playoffs.

"At this time…" Knight said, before the judge cut him off, saying he wanted a once-and-for-all answer.

"Houston," Knight responded.

"Alright, Houston. Good pick," the judge said.

Knight smiled.
The Rockets are certainly a popular pick among a subset of basketball fans experiencing Warriors fatigue, as they represent the greatest threat to Golden State's dominion over the NBA.
Why the judge thought it an appropriate topic of discussion amid a hearing involving serious criminal allegations is another question entirely.