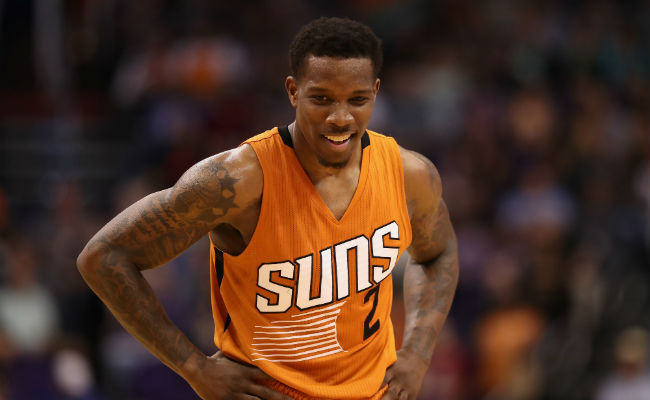 Cleveland Cavaliers general manager Koby Altman described the Kyrie Irving situation as "fluid" in a press conference last week, but lately it seems all the fluid is moving in the direction of the Phoenix Suns. While 20 or so teams inquired about Irving when they learned he was on the market, one-by-one As other teams find reasons not to acquire Irving, the Suns are sifting through their assets and working their way to a deal.
Darren Wolfson of ESPN 1500 radio reported Thursday that the Suns are indeed getting closer to a move for Kyrie Irving. In fact, they've narrowed down Eric Bledsoe as a potential piece in the deal.
The Phoenix Suns are the team to watch on Kyrie Irving. Now, they won't offer Josh Jackson plus that Miami 2018 first and Eric Bledsoe. I'm told they'll do Bledsoe. They'll do the pick. Plus, Dragan Bender.
All the smoke surrounding a Cavaliers/Suns trade does indicate talks are progressing, though most of the news has been about what the Suns won't give up to get Irving. Initial reports indicated a huge crop of young talent in the trade offer, but as time has gone on those names have become more specific.
Earlier in the week, it was reported that the Suns would be unwilling to trade rookie Josh Jackson or Devin Booker for Iriving. Jackson himself was told he won't be moved for Irving, which must be comforting considering he's yet to ever play a game in a Suns uniform.
Irving isn't the only target the Suns are considering, either. It seems they'd be willing to get Kristaps Porzingis from the New York Knicks if that were still an option, so it's clear Phoenix is looking at every angle this summer.
(via NBC Sports)