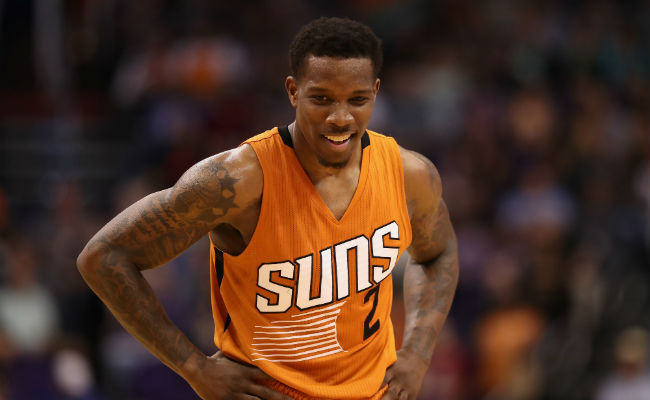 The Phoenix Suns simply can't stop tripping over their own shoelaces. Their opening week to the 2017-2018 season has been a disaster of Vesuvian proportions that started with a historic 48-point loss to the Trail Blazers and was book-ended by a semi-cryptic tweet from Eric Bledsoe hinting that he's done with all this noise.
Bledsoe, of course, tried to play it off, claiming he was referring to his hair salon (which is a whole other sidebar of hilarity). But the Suns sent him home indefinitely anyway, which has the residual effect of stripping the front office of any remaining leverage they might have harnessed for trade negotiations.
Nonetheless, the trade rumors have been swirling relentlessly, and former Lob City teammate DeAndre Jordan wasted little time trying to bring Bledsoe back into the fold in L.A., although it doesn't appear the Clippers are interested in giving up multiple players to acquire Bledsoe. The New York Knickerbockers are another team apparently interested Bledsoe's services as they try to find anyone that can help Kristaps Porzingis, though the Suns' asking price might prove a little too steep.
The Knicks' No. 8 pick has been battling injuries since the preseason, but his organization might very well prove too curious about what they have in the 19-year-old point guard from France before shipping him to Phoenix for a known quantity. The Knicks would have to decide if they think Bledsoe can accelerate the rebuilding process and be part of the long-term plan if they were to even considering this.
The hype alone surrounding Ntilikina will likely prohibit it (Knicks fans are already unhappy about this rumored package on Twitter). So it's likely back to square one for the Suns as they look to get rid of their disgruntled point guard, and if they need some help, we have a few ideas for them. If nothing else, this offers an idea of what Phoenix is looking for in return.