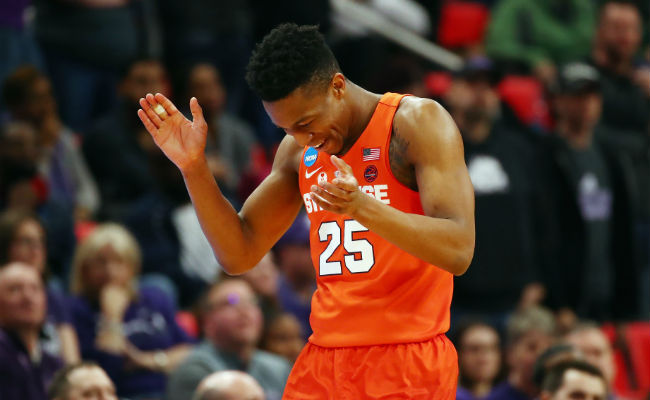 The Syracuse Orange were the last team in the field for the 2018 NCAA Men's Basketball Tournament, and now they're one of the final 16 teams left. The improbable Orange punched their Sweet 16 ticket on Sunday with a 55-53 win over 3-seed Michigan State in Detroit.
The No. 11 seed won its third tournament game in five days, somehow surviving on a sloppy day where both teams shot poorly in the second half. Despite a highlight-reel three to end the first half the game itself was a rock fight, if you count two teams throwing bricks at nothing and no one in particular to be a rock fight.
This GIF of Syracuse and Michigan State players scrapping for the ball on the deck is probably the best representation of the game as a whole.
https://twitter.com/marchmadness/status/975475612059099136
Franklin Howard (13 points) fouled out with 6:39 to play, putting Syracuse's short bench into the game. But the Orange scrapped their way to the lead down the stretch, and Tyus Battle hit a step-back bucket with 47.6 seconds left to make it a 3-point Syracuse lead.
Michigan State had a number of chances to tie, but they missed their last 13 shots before yet another Syracuse turnover gave the Spartans one last chance with 7.9 seconds to go.

That's when we started playing the free throw game. Syracuse coach Jim Boeheim decided to have his team foul down three, putting Matt McQuaid on the line for a 1-and-1 with seven seconds to go. He made both to cut the Syracuse lead to 52-51, giving Syracuse the ball back.
Battle was fouled on a breakaway inbound and made both to give the Orange its 3-point lead again, and Syracuse fouled once more. Cassius Winston made both of his free throws with 3.7 seconds left, Syracuse's Paschal Chukwu made his first and missed the second, giving Michigan State one last-ditch effort at the win with 2.4 seconds left.
Nope. The win sets up an all-ACC Syracuse-Duke meeting in the Sweet 16. Hopefully both teams put up a better shooting effort in that one.