This originally appeared in December of 2013, right after Karl Anthony-Towns committed to playing for the University of Kentucky. Now the Wildcats are undefeated and face Wisconsin in the Final Four Saturday night. We take a look back at our chat with the then-high school senior on the precipice of him helping to set NCAA basketball history in his first year with Calipari and Co.
***
After committing to play college basketball at Kentucky, high school senior Karl Towns Jr. is about to face the machine of high-profile basketball: more temptations, more pressure, and more opportunities to screw up his future, a future that could include the NBA. It's a good thing all of the stories about the seven-footer are true.
The affectionate shouts of "Shorty!" came from every corner of Joey D's in Metuchen, N.J., from the pizza tossers to the waitresses, all the way to the restaurant's owner. The warm reception on a chilly night signaled the arrival of Karl Towns Jr., the cozy pizzeria's most loyal customer — it was his second visit of the day — and something of a local celebrity, as evidenced by several autograph requests.
The St. Joseph's Metuchen star, newly 18, had recently committed to the University of Kentucky, bumping himself up a grade into the class of 2014 at St. Joe's to hasten his arrival at Lexington. His decision to announce early was partly because he knew UK had everything he needed — including his preferred major of kinesiology, which second choice Duke didn't offer — and partly to free him to focus on successfully defending St. Joe's first-ever state title.
"I thought the way I could continue playing at a high level, and even at a higher level, was to make my decision early instead of later," Towns says. "You don't want to worry about having a bad game and have a scholarship offer go away or something."
A valid concern for most. But there isn't a coach in America who would turn Towns away, in any sport. Though his father, a high school basketball coach and former standout player at Monmouth, had him dribbling a ball since he could walk, Karl firmly believes he could have gone pro playing baseball or golf. He threw 80 mph in middle school, and he's a scratch golfer who routinely drives the ball 300 yards.
Towns prudently decided before his freshman year to mainly focus on basketball, and almost instantly became one of the most coveted prep players in America. He was the No. 1 sophomore in the country before reclassifying; ESPN now ranks him as the No. 6 senior.
The 18-year-old offers the total package. At seven feet tall, he has the frame of an elite center and a burgeoning post game, but citing Kevin Durant as his inspiration, he's cultivated a deadeye three-point shot and deft passing touch. In addition, Towns is an exemplary student, an exceptionally congenial kid, a leader among his peers … and something of a homebody.
"I don't like outings," Towns emphasized. "I don't really like to go to parties. I don't even like cake."
So what does he have on his birthday?
He paused, and then said with a chuckle: "A cookie."
Might his Friday night routine of watching the Knicks and playing Call of Duty change when he's a (literal) big man on campus?
"I'm just doing what I feel is right, and I've never liked to party," Towns says. "So I'm just going to go to Kentucky, get a great education, play some great basketball and with God's will, play in the NBA."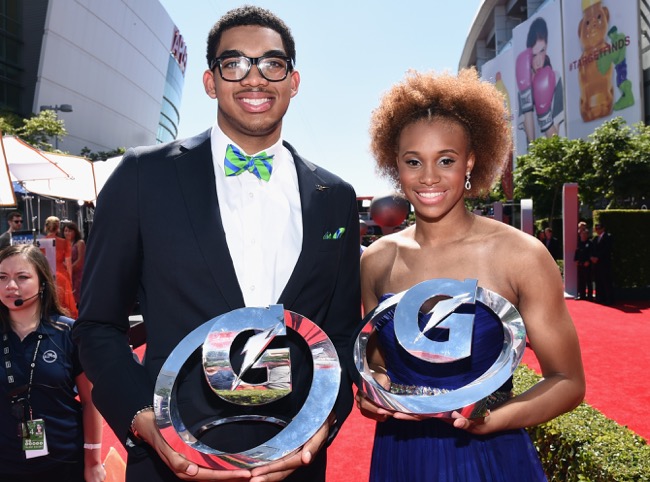 But all that is for another day. For now, after a weightlifting session and a three-hour practice, Towns was ready to unwind with a slice of buffalo chicken pizza, a Joey D's specialty. (Karl also ordered pasta, chicken soup, French fries and an order of wings; even at over seven feet tall, the doctors say he might still be growing.)
About halfway through dinner, Karl's father pointed out a couple sitting a few tables down. "Please excuse me for a minute," Karl Jr. said, getting up. "I have to go say hi to the Reinhards."
When they saw who it was, the couple greeted him with hugs and handshakes. Mrs. Reinhard looked up at him and said softly, "Thank you again for everything you've done for our son."
The story's been told, but it's worth telling again: The Reinhards' son, U.S. Marine Cpl. Kevin Reinhard, a St. Joseph's graduate, died in January of 2012 in a helicopter crash in Afghanistan. Towns, the president of the freshman class, was asked to represent St. Joe's at the funeral. Deeply moved, he planned to score exactly 25 points — a would-be career-high — in his next game against Perth Amboy to honor Reinhard, who was 25 when he died.
Sure enough, a red-hot Towns scored his 25th point in the third quarter of St. Joe's 15-point victory, and then informed St. Joe's coach Dave Turco he was done shooting for the night, his tribute complete.
"It meant the world to me," Towns says. "He was a fellow St. Joe's alumni fighting for our country, and you always want to respect the people that came before you.
"It was one of those things that just felt like the best thing to do. And to help his family, who gave me the chance to attend his funeral not even knowing me, it really meant a lot to me that I could give my last respects to their boy, to let his name live on."
That's the paradox with Karl Towns: His basketball ability is the reason we know who he is, and yet he'd be worth getting to know even if he were two feet shorter.
It's understandable if you missed the end of Team USA basketball's exhibition against the Dominican Republic a few summers ago, a game the United States won by 54 points. But those who stuck it out for the final few minutes received a tantalizing glimpse of the future.
Towns, invited to play for the Dominican squad by coach John Calipari, went toe-to-toe with reigning NCAA Player of the Year Anthony Davis, who had been the No. 1 pick in the NBA Draft right around the time Towns was finishing his freshman year at St. Joe's.
And without question, the 16-year-old held his own. Towns admittedly took his lumps, like when he fouled Davis on a four-point play. But he also showed flashes of brilliance, tossing a behind-the-back pass for an assist, blocking Russell Westbrook on a drive, and connecting on a three-pointer over Davis.
"I just went out there and trusted my instincts," Towns says. "I'd been playing this game for two and a half months over there with the pros, so it seemed like a natural reaction to just play my game, not be scared and do what I know I can do: just play basketball."
Most impressively, while sharing a court with the NBA's best players, the prep star didn't look overwhelmed — physically or otherwise — indicating there's a good chance he joins them on that elite level sooner than later.
"When I saw him get off the bench, just knowing my son was set to walk on the court with the best in the country, it's something you can't describe," Karl Sr. said. "You practice with your son, and you dream a lot, but seeing your kid fulfill a dream as a freshman that most people have to wait until they're in the League to do, it was just unbelievable.
"Then when he scored, it just made everything and all the hours we put in just worth every bit. It was one of the best days of me and my wife's life."
For Karl Jr., playing for the Dominican team — which he did again this summer — is a chance to learn from the game's absolute elite. He recalls LeBron James, for one, giving him some rather LeBron-esque advice: "Take nobody lightly, and try to dominate every day." He forged a relationship with Calipari and Kentucky assistant coach Orlando Antigua, and was able to hone his skills in the post under the tutelage of assistant coach Del Harris. But he was also afforded an even more meaningful opportunity.
"My mom is (originally from) the Dominican Republic," Towns says. "How many times do you say you want to do something for your mom? Sometimes you may give her some flowers, give her a gift, and I thought this was the biggest gift I could ever give her, to play for her country and represent it well. For her to share that, just knowing she was happy, gave me the best experience."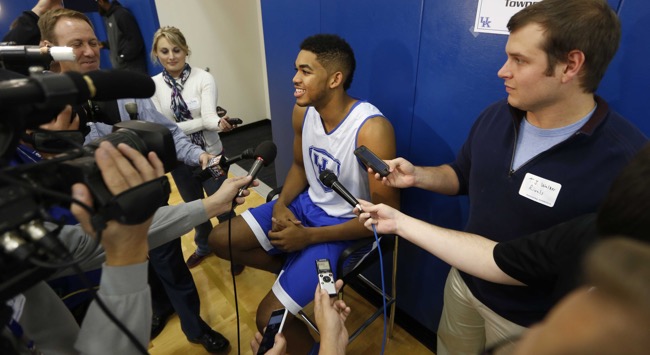 Certain observers of high school basketball have expressed skepticism about whether the fantastical Karl Towns stories are for real: the 4.3 GPA, the random acts of kindness, the distaste for partying. And that's understandable, since he sticks out like a sore thumb in the image-driven culture of big-ticket prep basketball, in which everyone — players, coaches and otherwise — seems concerned with "building their brand."
"I think if you go out there and be the best person you can be and play the best ball you can, I think at the end of the day, your brand or whatever will be taken care of by itself," says Towns, who routinely takes game film home and presents full scouting reports to his coaches. "All I'm worried about is being the best human I can be, and just going out there and playing the game I love at a high level."
St. Joe's athletic director Jerry Smith's favorite example of Towns' magnanimity came two weeks into his freshman year, when one of his classmates broke his nose in a flag football collision. Both of the injured kid's parents were at work in New York City, and after assessing the situation, Karl called his father and asked for a ride to the hospital so a fellow student he didn't actually even know wouldn't have to be alone.
"I don't know many adults who would do that," Smith said, shaking his head.
Another example: After dominating forward James Ziemba for an entire practice, Towns remained grounded as his teammate sank a hook shot over him in the final drill. He shrugged off his teammates' gentle ribbing and said with a grin, "Guys, I want him to hit that shot."
That attitude has kept Towns grounded even as his public profile has soared. His Instagram account features pictures of him with icons like Kobe, LeBron, Carmelo and Coach K, a pictorial of his amazing basketball journey. At a Rutgers-Seton Hall game last winter, Giants star receiver Victor Cruz asked to be introduced to him.
Amid all that, his game continues to blossom: He averaged 20 points, 13 rebounds and five blocks for St. Joe's last season, as they won their second straight state title. And get this: He's mentioned he might try baseball again this season.
This isn't to say there aren't bumps in the road. Towns dealt with intermittent bouts of minor knee tendinitis last year, and St. Joe's fell short in the finals of the Tournament of Champions against Roselle Catholic. But as Towns says, "If you keep thinking about what happened in your last game, you'd never win all the other games." To borrow from "Vanilla Sky," the sweet is never as sweet without the sour.
"My dad worked a lot of jobs when I was younger just so I could have shoes to play basketball, so it just taught me a lot about how to work hard," Towns says. "Just keep working hard and keep going at it, because there's always going to be a better day out there.
"It just seems like, growing up, having him spend all that money on basketball stuff I needed, it seems it's paying off, and that better days are coming soon."
One might argue that for Karl Towns, they're here already.
How good can Karl Towns become?