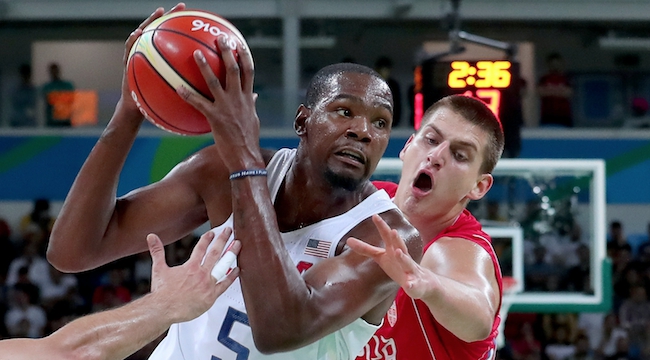 Team USA isn't playing history. G00d thing, too, as its second-straight hard-fought victory over an objectively inferior opponent has never made it more obvious the 2016 Olympians don't stack up to their predecessors of London and Beijing.
The Americans beat Serbia 94-91 on Friday night in another game that showed how beatable they really are.
Mike Krzyzewski's squad jumped out to a 23-5 advantage in the first quarter against Nikola Jokic, Miroslav Raduljica, and company, using hyper-disruptive defense and supreme ball movement to dominate on both ends of the floor. But it was a slog for the United States from that point on, as Serbia exploited Team USA's suddenly disengaged defense at the point of attack to find open jumpers and easy shots around the rim via simple pick and rolls.
After Jokic dunked past DeMarcus Cousins following another ball screen, Serbia only trailed the Americans 58-53 with just under six minutes remaining in the third period – a 23-point swing since the United States led by 18 late in the first quarter. The deficit was five points again a few minutes later when the Denver Nuggets' rising star, who was by far the best player on the floor Friday night, scored over the top of Draymond Green from the block, and was cut to four points following a Milos Teodosic triple as the fourth quarter clock read 7:29.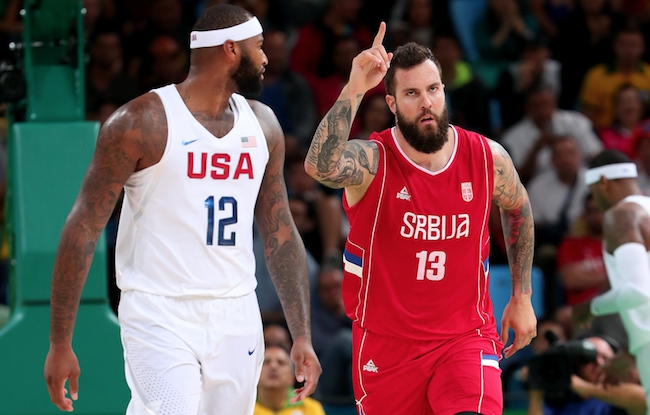 Serbia, however, wouldn't get much closer.
Raduljica, a problem for Cousins down low all game long, fouled out with just over six minutes remaining, and Krzyzewski's starters played with a clear sense of urgency down the stretch that finally yielded efficient, if ugly, offense. Paul George hit an open three-pointer to extend his team's lead to seven, and Carmelo Anthony woke from a game-long slumber to drill an and-1 jumper with just over two minutes left. But Jokic, who scored 25 points and showed off his rare all-court offensive talent from the tip, refused to go away, scoring two straight buckets on the interior to keep the Serbians alive late.
The Americans only escaped for good following a frantic final possession that left Bogdan Bogdanovic, a marksman, with this wide-open, game-tying three-point try.

#Rio2016 #basketball @usabasketball 94 #Serbia 91…lo tuvieron sobre la hora los serbios #JuegosOlimpicos pic.twitter.com/0e9YKyCyL5

— NEIL BENNETT OLIVERA (@neilbennetto) August 13, 2016
The blueprint for success against this U.S. side is the same one that's existed for years: limit turnovers, clean the defensive glass, wall off the rim, and run the Americans ragged through screens both on and off the ball. Serbia did all those things in this Group A matchup save for its first seven minutes. Jokic and the rest legitimately outplayed their heavily-favored counterparts for the majority of this contest; anyone suggesting otherwise wasn't watching.
But the Americans are only the group in Rio capable of the game-splitting runs they opened with against the Serbians on a nightly basis. Team USA is just too naturally gifted for this Olympic field. In a potential rematch against Australia, though, it looks increasingly likely that the United States will have to actually earn their third consecutive gold medal.
Who knew?