Team USA got off to a fantastic start in the Olympics with an easy 119-62 victory, which is pretty much exactly the opposite of how it shot the ball immediately after tipoff against China on Saturday. Not that it mattered, of course.
The Americans struggled mightly early behind a starting lineup of Kyrie Irving, Klay Thompson, Kevin Durant, Carmelo Anthony, and DeMarcus Cousins. They were still stuck at two points three minutes into the game, plagued by missed jumpers and a team-wide penchant for overpassing.
Big surprise: It didn't last. Durant splashed a 15-footer off a baseline out-of-bounds play for the United States' first bucket, breaking the dam for a flood of points that didn't end until the fourth quarter buzzer. The Golden State Warriors' superstar scored 25 points on 10-of-14 shooting to lead Team USA, which assisted on 31 of its 38 buckets. So much for the notion that this group would struggle to make plays for others.
Defense was always going to be this team's calling card, though, and it indeed kept the Americans afloat during their early offensive labors. Thompson blocked a shot and swiped two steals in the opening minutes alone, while Mike Krzyzewski's hyper-aggressive, switch-heavy scheme confused China throughout the game and led to easy score after easy score in transition. Even the successful Chinese baskets were almost exclusively of the exceedingly difficult variety; open shots were few and far between for Team USA's first overmatched opponent. To wit, the underdogs finished with 24 turnovers against just 20 field goals.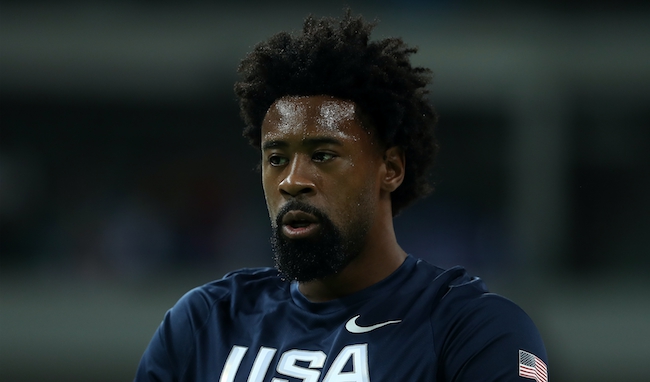 There's really only so much to take away from a game that had obviously been decided before the end of the first quarter. Some things to watch going forward for the United States, though, are Draymond Green's place in the rotation and DeAndre Jordan's woes at the free throw line.
Golden State's forward was second-to-last man off the bench Saturday night, a minor shock considering his unparalleled two-way versatility and fit with Team USA and the international game overall. It will be interesting to watch how much time he notches at center throughout the Olympics. A quintet of like-sized players feating Green at 5 could be Krzyzewski's best lineup, but it barely appeared at all against China – save for an especially dominant stretch midway through the third quarter, that is.
Jordan, meanwhile, fell victim to the same weakness that afflicts him with the Los Angeles Clippers. The lefty made just one of his six tries from the charity stripe. Keep an eye on teams fouling him every paint touch going forward; that's undoubtedly the most efficient way of keeping the United States off the scoreboard.
One down for Team USA. Durant and company have four more games to go – next up is Venezuela on Monday – before a bigger challenge begins in knockout play. Based on their domination of China, though, even medal round may prove an easy test, too.