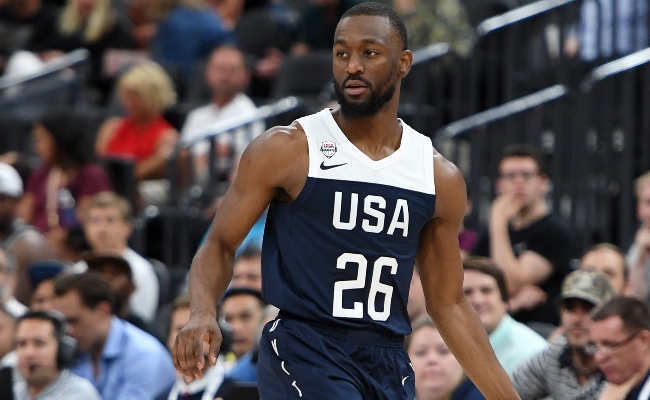 It's been a tough news cycle for USA Basketball this summer. Before training camp in Las Vegas for the upcoming FIBA World Cup of Basketball, several high-profile NBA stars announced that they wouldn't be participating with Team USA when they head to China at the end of the month to defend their gold medal, and several others have subsequently bowed out due to injury.
If that wasn't enough, rumors emerged earlier in the week that the men's national team had suffered an ugly 19-point loss during a scrimmage against the select team, which consisted of G-League players and other fringe NBA prospects. Footage of that scrimmage surfaced in recent days, showing a listless USA squad that didn't inspire much confidence about their chances in the coming tournament.
Of course, it's possible that we may have slightly overreacted to what was ultimately a meaningless scrimmage. It's hard to put much stock into any of these contests until pool play actually gets underway, but nevertheless, Team USA looked noticeably sharper in an easy 90-81 win over Spain Friday night.
Donovan Mitchell and Khris Middleton led the way with 13 and 12 points, respectively, and Mitchell had one of the highlights of the night with this explosive jam in the opening quarter.
Donovan Mitchell attacks and TAKES FLIGHT for @usabasketball! #USABMNT

📺: @NBATV
📱💻: https://t.co/gWSXqaO9Vj pic.twitter.com/fDmCCycEdC

— NBA (@NBA) August 17, 2019
Kemba Walker, the team's elder statesman at this point and arguably its best player, added 11 points in this contest and got things started early with a beautiful hesitation move for the easy layup.
Hi there, Kemba. pic.twitter.com/ii6ISPY0Ke

— Dime (@DimeUPROXX) August 17, 2019
Fellow Celtics teammate Jayson Tatum finished with 11 points as well and had another highlight of the evening with this nasty one-handed jam during the first half.
Jayson Tatum throwing it down! pic.twitter.com/23IOhjkCs7

— Dime (@DimeUPROXX) August 17, 2019
Ricky Rubio and Marc Gasol scored 16 points each to lead the way for Spain. On Saturday, Team USA will travel to Australia, where they'll play another round of tune-up games before heading to China later this month. They still have to cut their current roster from 14 to 12 before the tournament begins, but it's unclear whether they'll do so before they depart this weekend.