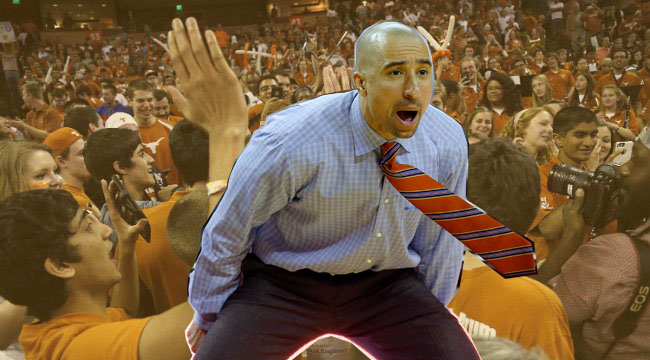 AUSTIN, TEXAS — Shaka Smart is routinely late to post-game press conferences. It's become a running gag among local media members who set unofficial over/under bets so often they could be a niche line for FanDuel.
"How long do you think it will take for Shaka this time?," someone asks. "Well, he's probably not visiting with recruits," another says.
This time, though, Smart wasn't late. He wanted to get this over with. The first-year head coach at the University of Texas just suffered his worst loss of the 2015-16 season: 86-56 to Kansas.
It was Big Monday on ESPN.
It was senior night for the Longhorns.
There are many ways to describe what happened, but they all roll back to the same basic point: The Jayhawks were utterly sensational. It's an anomalous year for college basketball in which there is no truly elite team to beat, but when Kansas is clicking, it looks every bit like the top-ranked squad that it currently is. This is a group with Final Four written all over it, maybe more.
Bill Self's team, which clinched an astounding 12th-consecutive Big 12 regular-season championship with the win, shot 64 percent from the field, going 11-of-16 from beyond the arc. (At one point, Kansas was 10-of-13 from three-point land, with one miss being a mid-court desperation shot before the half that still had a chance to go in.)
Texas shot 30 percent and started the game 0-for-14. It was 15-0 Kansas six-and-a-half minutes through the first half. The Horns never stood a chance.
Smart knew this — maybe not the exact numbers, but he knew how bad it was, and he wasn't about to take time to soak in the moment. Five minutes after guard Javan Felix, center Prince Ibeh and forward Connor Lammert, all of whom played their final home game in burnt orange and white uniforms, solemnly answered questions with their heads sunk low, Smart entered the media room. Other than the murmured sounds of leftover fans leaving the Frank Erwin Center echoing through the concrete hallways, the place was silent.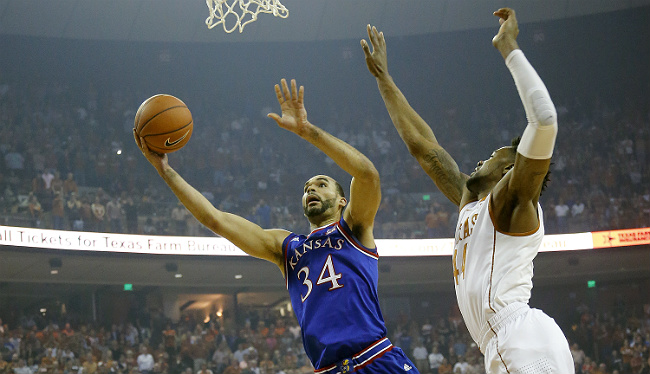 Smart is a charismatic 38-year-old. He's a defensive-minded coach known for his high intensity, fast-paced style of play — "havoc" — that took Virginia Commonwealth University to a Final Four in 2011. He begins games wearing a suit jacket only to lose it shortly thereafter. He slaps the court to motivate his players. He is, above all, the polar opposite of his predecessor, Rick Barnes, who is now the head coach at Tennessee.
Yet, Smart quietly sat at the podium. He took deep breaths and shook his head. His eyes, directed downward, darted back and forth as though he was searching his own mind for answers. In that moment, he didn't have any.
"It should be (a wake up call)," he said. "It's interesting. There are special players, teams, people who are able to find motivation in anything. There is no question that we should be highly motivated, but try to be motivated and bummed out at the same time."
Smart was not defeated, but he was stunned. Stunned at the loss. Stunned that, within a span of back-to-back games, Texas played its best and worst basketball all season. Two days before Kansas, against hated rival Oklahoma, Texas had six glorious minutes in which the vision of Longhorns basketball under Smart was realized. The perennial sleeping giant had awoken.
And within the first six minutes on Monday, Kansas killed that vision.
***
To understand Smart's challenge, one thing needs to be clear: Austin isn't a basketball town.
For one, as far as sports go, Texas football reigns supreme. It always has, but that speaks more to the culture of Texas as a state. Football is the first love.
During the Longhorns' game against Oklahoma, former football head coach Mack Brown was shown on the Erwin Center's big screen and waved to generous applause. Then, current football head coach Charlie Strong was shown on the screen and received a louder round of cheers. It could have easily been boos — in two seasons, Strong has yet to post a winning record — but people crave their Longhorns football.
Secondly, Austin is a growing city of transplants with 157 people moving to the area every day, per the U.S. census. The older days of "Keeping Austin Weird" are more of a vintage state of mind now. New Austin is young, professional and active. This time of year, when the short winter months clear out for mild temperatures, sitting inside watching a basketball game isn't high on the list of things to do.
Saturday, February 27 in Austin was gorgeous. It was 73 degrees with blue skies and a breeze. Indeed, there were people out and about. However, No. 3 Oklahoma was in town. The Erwin Center, with a capacity of 16,734, was sold out.
Not only that, it was loud.
"I took a moment to soak it all in," Lammert said, who nodded when asked if this was the loudest he'd heard the arena this season. "I don't know if our fans realize what that does to the other team, because we've been on the other side of that."
This was rare. The Erwin Center developed a reputation over the years for being a half-full library. In 2014-15, Barnes' final season, Texas averaged just under 61 percent capacity for home games, according to NCAA numbers. As far as intimidating home environments go, the Erwin Center isn't on the short list. Or even the long one.
Saturday was different, though. There was a noticeable buzz. Though the Longhorns had just lost three of their last four games, that stretch succeeded a hot streak in which Texas won seven of eight in the deepest conference in college basketball. Smart had also been instantly successful by going 3-0 at home against AP Top-20 opponents. A win over the Sooners would give the Horns three home wins over AP top-10 teams. Compare that to Barnes, who won three of his last 16 games against top-25 teams.
Between a DJ spinning records and the Longhorn band, there was plenty of music to get people pumped. The student section was nearly filled 70 minutes before tip-off, just in time to see both teams warm up. An emcee grabbed one student and shoved a microphone in his face. "What are your predictions for today's game?," he asked, his voice bellowing through the arena over the PA system. "I think Texas is going to win!," the student shouted back. "Alright, alright. Anything else you'd like to say?," the emcee asked. "Buddy Hield sucks!," the student replied.
Hield, the Sooners' star guard and eventual Big 12 Player of the Year for the second season in a row, was warming up right next to the student section.
Such a low blow is what fans are good for. It's different for coaches and even players. Rivalries are heated affairs, but there's a different lens through which they're viewed by competitors. There's at least some respect. At the end of the day, everyone is working toward the same goal. No one in Texas' locker room thinks Hield sucks.
Still, Smart took a rare opportunity to go away from the blueprint. After all, this is Oklahoma and Texas. Screw it. In front of a crowd of fans hours before the game, Smart let one fly:
Asked about it later — the video went instantly viral — he laughed. No sense in hiding it now. "Sometimes you have to play to the crowd," he said.
***
Before his first season in Austin began, Smart regularly dedicated a portion of practice to perfecting the "six-minute game." As Mike Finger of the San Antonio Express-News explained, "a score would be put on the board with 360 seconds on the clock, and players would scrimmage until it was over." According to Lammert, the Horns once played "seven six-minute games in a row."
Basketball is a game of runs and momentum. In theory, just about anything can happen in six minutes within a certain point differential. As it turned out, Oklahoma became the literal case study for the six-minute game.
The Sooners actually led for 32 minutes, grabbing the lead after weathering a hot start by Texas. Hield, showing he most definitely did not "suck," had 23 first-half points and was 4-of-7 from beyond the three-point line. The best player on one of the best three-point shooting teams in college basketball was phenomenal. For the first 20 minutes, Texas didn't have an answer for the Sooners' screen game.
Yet, Texas never found itself out of contention; rather, the Horns were perpetually about five points behind. On and on it went like this. The Horns were never able to re-take the lead, but they were also never out of striking distance. Texas, to its credit, never quits under Smart.
The turning point came at the 7:08 mark in the second half. Junior guard Isaiah Taylor made a layup with an and-one, which he completed following a media timeout. What ensued was something nobody could have possibly foreseen. Taylor's three-point play was the start of a 22-0 run by Texas that spanned 6:10. (Officially, Texas went on a 25-5 run to win 76-63.) The Horns were aggressive, driving to the rim on offense and double-teaming Hield on defense. As good as the Sooners are, they lack depth. Hield specifically played all but one minute.
With Oklahoma noticeably fatigued, Texas kicked it into another gear. "That's winning time, " Lammert said.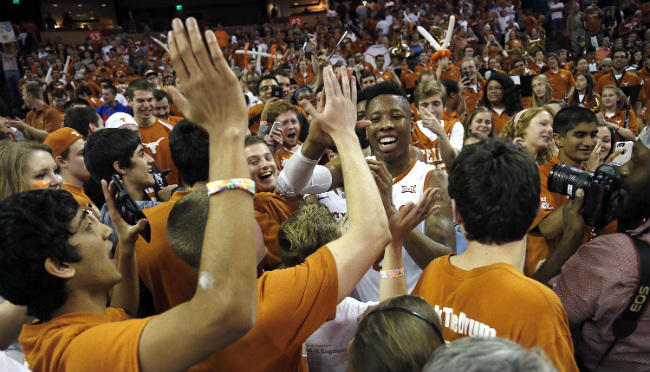 "It was a weird game," Smart added. "They missed some shots [late]. You have to have some good fortune. I think energy and focus — those things together — give you a chance to do something like that.
"This time of year, everyone's a little bit tired, a little bit run down. Our guys were able to dig deep and find that togetherness."
Smart's vision of a six-minute game came to fruition in the most exaggerated way possible. For those six minutes, Texas was on top of the world. Given the parity in college basketball this season, maybe nobody could have beaten the Longhorns in that period. With each score, steal and fast break, the Erwin Center's pulse magnified exponentially. The roof felt destined to blow.
Texas basketball under Smart had arrived. "Biggest win of the year?," he asked rhetorically. "Yeah, because it happened today."
***
Texas' win resonated throughout Austin for 48 hours. Remaining tickets for the Kansas game — roughly 1,000 — were bought up quickly. Monday evening, students filled the Erwin Center early like it was a scramble to get front and center at a rock concert.
There was a positive energy to the place, which was sold out for the second game in a row. It was loud again, but there was also a sense of confidence — not just the raw hype on display Saturday. It was a star-studded event, too. Former Longhorns quarterback Colt McCoy was in attendance, as were Dallas Cowboys quarterback Tony Romo and Jason Witten.
Smart knew the game against Kansas was going to be different, though. Deep down, he hoped it wouldn't be, but he likely knew all the same. He could tell during Sunday's practice. Smart spoke of pats on the back and congratulatory texts his team received after beating the Sooners. In all honesty, he explained, the kudos went to everyone's head. Living in the moment is fine. Living in the moment for too long is dangerous.
"We didn't handle the aftermath of the Oklahoma game like we needed to," he said. "There's no question. The ability to handle success is an issue for this team. You could call it out, but that doesn't necessarily fix it."
One of the team's most important players was hurt, too. Taylor had been suffering from plantar fasciitis and spent Sunday in a boot. (That injury is on top of the broken foot that has sidelined center Cam Ridley since late December. Ridley could return for this week's Big 12 tournament.) There's no way to properly rest Taylor at this point in the season because he'd need at least a month to recover. With the Big 12 and NCAA tournaments upcoming, Taylor has to play through the pain the best he can.
Taylor didn't look right against the Jayhawks from the start, but that was hardly the biggest problem. Texas didn't score a basket for nearly seven minutes to start the game, but had no answer for anything Kansas did. The Jayhawks, led by senior forward Perry Ellis, dominated in the paint while hitting its outside shots. Their ball movement was superb. Put simply: Kansas couldn't miss. Self, perhaps a little surprised himself, described his team's effort as a tremendous display of basketball skill.
In the final six minutes against Oklahoma, Texas finally found itself. In first six minutes against Kansas, the Longhorns never looked more lost. The dream of Texas basketball becoming the city's must-see event was quickly shattering. "The way we won the Oklahoma game in the last five minutes, that's how we have to play to be a high-level basketball team," Smart said. "That's how we have to be to compete against a team like Kansas."
The Erwin Center crowd was subdued. Soon, there were empty orange seats sprinkled throughout the arena. As the second half trudged on, and with the 24-point halftime deficit becoming slowly larger, fans began pouring out in waves. "Every coach will tell you that you want to take the crowd out of it early," Self said. "This was one of the few times where this actually happened."
Self didn't say so explicitly, but he may have had a point to prove. With the game in hand, many of Kansas' starters were mercilessly still on the court, as noted by Brian Davis of the Austin American-Statesman, who directed fans to an April, 2015, quote from Smart directed at the Jayhawks:
It wasn't enough to end the new vision of Texas basketball before it ever truly had legs. Kansas made sure the Horns, and the 16,000-plus people in attendance, felt it. And they did.
***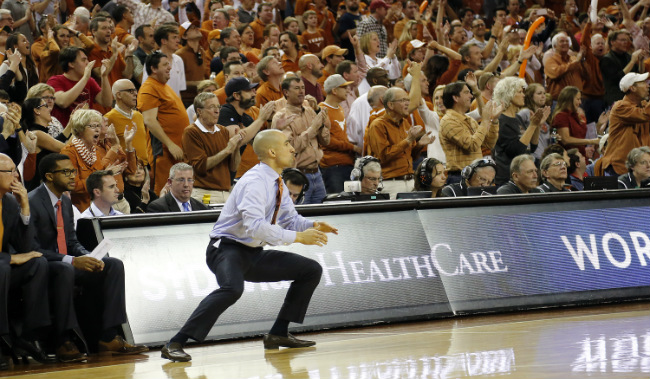 The season wasn't over, of course. This was true in the literal and figurative sense.
"We're going to come in with some energy tomorrow [in practice]," Lammert said following the loss to Kansas. "Get the bad taste out of our mouths."
On Friday, March 4, Texas traveled to Oklahoma State for the final regular-season game: a 62-50 win that gave the Longhorns 20 victories on the season. Like the Oklahoma game, Texas found itself in a closely contested effort. Also, like the Oklahoma game, Smart's team found a late surge in a 16-2 run over the final 7:17.
For those keeping score, that's a 25-5 run over the final 7:08 against Oklahoma and a 16-2 run over the final 7:17 against Oklahoma State. The six-minute game is a proven science.
Texas was briefly back, as well, though the Cowboys are second-to-last in the Big 12 standings with a 12-19 record. Still, the Big 12 has six legitimate NCAA Tournament teams, and potentially seven if Texas Tech makes the cut. Texas had to play each of them twice in the regular season.
Twenty wins is always a solid benchmark, and Smart got there in Year 1, but this is the 16th time in the last 17 seasons the Longhorns have hit that threshold. The last time Texas made a Final Four, though? 2003. The last time it made the Sweet 16? 2008. The Horns have almost always been good, and at times, a legitimate threat to make a deep tournament run. However, in each of its last six tournament appearances, Texas never made it out of the first weekend.
Texas is good again this year. But what will separate Smart's inaugural effort from the Barnes years, many of which run together after awhile, is if the Horns can get on a roll at the right time. The pair of "six-minute games" in the final three games showed Smart's team has moments in which it looks unbeatable. If Ridley is able to return, Texas' presence in the paint, where it thrives on aggressiveness, will be boosted.
At the very least, the Horns are assured a spot in the NCAA Tournament, and depending on how deep they go in the Big 12 tournament this week — their first game is against Baylor on March 10 — could jockey for better seeding. ESPN's Joe Lunardi has Texas as a No. 6 seed as of March 9.
Not that such specifics matter much to Smart, who, following the Oklahoma win, spoke of his team's 71-66 loss to UConn in December. "We knew flying back cross-country on a plane that we had a lot of work to do then," he said. "But we would have had a lot of work to do if we had won."
The intersection of "good enough" and "elite" is a much bigger target, but also a moving blip on a road map for him. One day his players are rocketing past the No. 3 team in the country, the next they're missing their first 14 shots against the No. 1 team. "It's very concerning," Smart said. "That's not a recipe for success."
It is, however, a recipe for great March drama knowing at any second the Horns could turn it on. Even Smart couldn't ignore this.
"Texas is a special place and there's so much potential here," he explained.
Then, he switched back.
"But having Texas across your chest, that doesn't win a game by itself, it doesn't get a recruit by itself. It doesn't fill an arena by itself."
That was Smart, a man in the moment. After all, there was one more game before March even arrived: February 29.
"It's a leap year," Smart reminded.