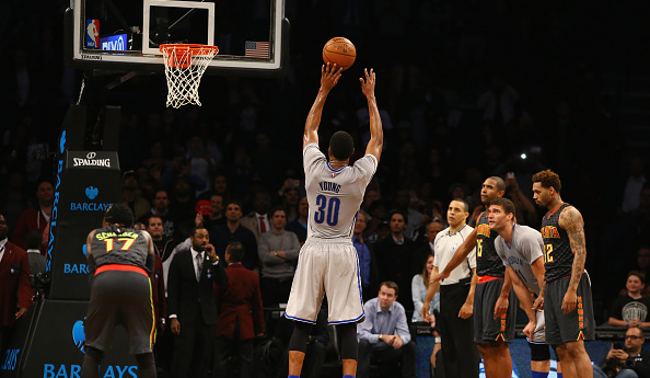 It was a barn-burner in Brooklyn on Tuesday night as the Hawks-Nets game came down to the wire and was ultimately decided at the free-throw line. Late in the fourth quarter, it was a back-and-forth affair that reached its tipping point with 10 seconds remaining and the game tied 88-88.
After the Hawks nearly turned the ball over, Brook Lopez blocked a Paul Millsap layup attempt, and Thaddeus Young grabbed the rebound and threw the outlet pass to Joe Johnson. Johnson led the break and then got it back to a wide-open Young, who drove hard to the basket and got fouled by Kyle Korver with 1.4 seconds remaining.
Young sunk both free throws to give the Nets a two-point lead, and then on the ensuing possession, deflected the inbounds pass to help seal the victory for Brooklyn. He finished with 16 points on 7-of-13 shooting and had five steals on the night. Lopez was the high scorer for the Nets with 24 points and eight rebounds, while Johnson and Jarrett Jack added 13 and 14 points, respectively, and both made clutch shots down the stretch in a hotly-contested matchup that featured 13 lead changes and 11 ties.
Al Horford led the way for the Hawks with 18 points and five rebounds on an efficient 8-of-11 from the field, while Millsap chipped in 17 points, to go along with six rebounds and three assists but also had five turnovers. The Nets forced the Hawks into 20 total turnovers for the night – yet only converted that into five fast break points – and pounded them in the paint 40-24. Atlanta has now lost three straight games.