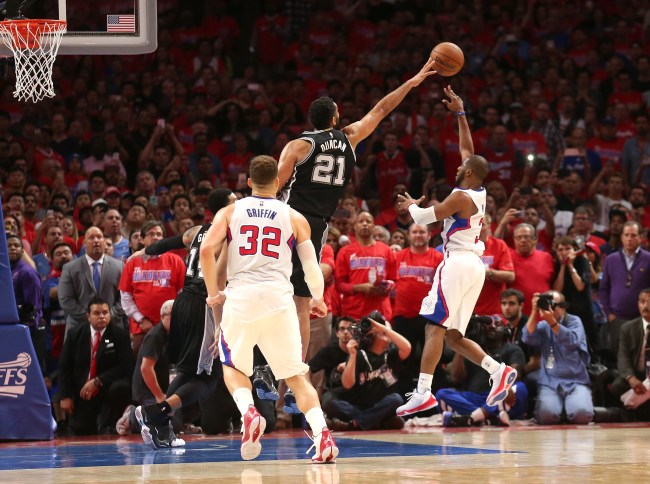 This is what it takes to beat the San Antonio Spurs.
The career-defining performance of a future Hall-of-Famer. A massive triple-double from the game's most underrated all-court force. 14-of-27 three-point shooting. An injured player's off-balance layup over a pair of All-League defenders with one second remaining. A fortuitous accidental stoppage by sideline officials during the game's final possession.
And a whole lot more.
We'll remember the Los Angeles Clippers' 111-109 Game 7 victory over the defending champions forever. Perhaps the most well-played first-round matchup in league history somehow culminated in a final contest that outdid the previous six. And while there were a countless amount of players, possessions, calls, and no-calls that made it so and helped decide its dramatic outcome, this game will eventually be known as Chris Paul's.
Why not?
The Clippers superstar fought through a first quarter hamstring injury to notch 27 points and six assists, capping an already memorable effort with the series-clinching basket as the fourth quarter clock read :01. He scored 22 of those points after returning to the game from a brief locker room hiatus in the second quarter that left his status for the remainder unknown.
Los Angeles officially listed Paul as questionable to return even as he made his way back to the bench through typically determined eyes just over six minutes before halftime. But there was never any doubt upon the 29 year-old's resurfacing that he would play in pain – Paul is that type of player and this was that type of game.
And though it's hard to believe as we bask in the glory of his instant impact performance, his potential effectiveness was hardly so ironclad. It was telling when the Clippers moved Paul off the ball for a Jamal Crawford isolation on the initial possession of the former's return to action, and just as indicative of his limited state when Los Angeles began eagerly switching 1-5 ball-screens and rolled the ball up the floor to delay the shot clock.
Paul would be hobbled, clearly, and a Clippers victory would be more difficult to come by as a result. Or at least that's how it appeared at the beginning. But then the Point God made it clear he'd be beaten by San Antonio as opposed to a random injury at the worst possible time.
He skipped from the wing across the paint for a difficult fadeaway over Kawhi Leonard late in the second quarter. He opened the second half by splashing a trey off a kick-out. He pulled up for another triple in early transition a few trips later. He grabbed a loose ball and scurried down the floor to bank-in a long three that gave his team a one-point lead as the third quarter buzzer sounded.
Paul drilled another bomb with Tiago Splitter in his face for Los Angeles' next basket. He made an easy 15-footer from the elbow after posting Patty Mills. And he took a hand-off from Blake Griffin, rejected his teammate's screen, planted off his fragile left hamstring and willed in the game-winning layup with over the outstretched arms of Danny Green and Tim Duncan with one second left.
It's a tired sports cliché that great players simply "find a way." There's always more context to a superstar's heroics than that surface-level take suggests, and Paul's are no different. Doc Rivers adjusted on both ends to compensate for his point guard's compromised mobility; the players implemented them to surprising effect; and Griffin doubled-down on his all-encompassing impact.
But watching Paul play spot-up shooter, hobble his way around screens, and motivate his teammates to victory with extra animation is a perfect example of that idiom at work nonetheless. He forced the Spurs to win Game 7 instead of letting the Clippers lose it with a typically aggressive yet nuanced approached that put he and his team in position for an unlikely victory. And Los Angeles got it by simply making one more play before the clock said this epic first-round series had to end.
Though historical narrative will say otherwise, however, this game was still far too good to belong to a single player. At several points throughout the game it appeared Paul's display would prove a footnote compared to other individuals'.
Griffin compiled a gritty 24 points, 14 rebounds, and 10 assists while doing a lion's share of the Clippers' creating. Green found his stroke and created a whopping seven turnovers (five blocks, two steals). J.J. Redick made consecutive off-dribble three-pointers in crunch-time when it seemed San Antonio was gaining control. Kawhi Leonard kept the ball alive to allow his team a pair of offensive rebounds before grabbing another miss himself and putting the Spurs up 105-102. And Duncan finished off a 27-point (11-16 FGs), 11-rebound night by making a pair of free throws to tie the score with nine seconds remaining and set the stage for Paul.
It took Los Angeles' most well-balanced effort of the playoffs to oust San Antonio on Saturday. Gregg Popovich and company made sure Paul and Griffin alone wouldn't be enough in Game 7 like they were two nights prior, affording this series – and perhaps this era of the Spurs – a fitting end only one so obviously great deserves.
Following San Antonio's Game 5 win earlier this week, the Clippers as we know them were on the verge of vanishing. As this loss marks the impending free agencies of 39 year-old Duncan and 37 year-old Manu Ginobili, not to mention another summer for Popovich to consider sipping wine in the Williamette Valley year-round, though, it's the Spurs who suddenly face possible extinction.
"We'll probably come back," a light-hearted Popovich said after the game of he and his most tenured players. "The paycheck's pretty good."
Let's hope so.
But if this really is the end of San Antonio, it's tough to imagine it going out on a brighter losing note. Not only did Los Angeles need unique excellence from its superstars, but standout efforts from ancillary parts, too – what the Spurs came to expect from themselves during 18 years of unparalleled success under Popovich and Duncan, basically.
It's never been just about the greatest coach in league history or even the greatest player of his generation for San Antonio, and the Clippers' victory isn't just about Paul, either. That's not the consensus takeaway at the moment, of course, and public opinion will grow even further from it as time goes on. That it exists at all isn't just a testament to Los Angeles' stellar all-around play, but also a ringing endorsement of everything for which black-and-silver stands: teamwork, selflessness, defying expectations.
It took even more to dethrone the defending champs than they've been consistently giving for nearly two decades running. And if the Spurs had to lose and face an offseason of franchise-altering choices, Popovich and the rest should be heartened it came at the hands of a player and team that – for one night, at least – looked a lot like them.
[Vinnyviner, NBA]