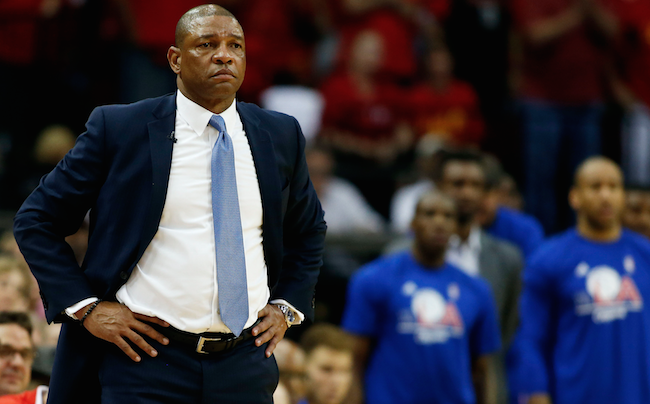 It speaks volumes of the Los Angeles Clippers' collapse in the Western Conference Semifinals that their triumph one round earlier has been all but completely forgotten.
After Chris Paul and company dethroned the defending champions with an epic Game 7 win, it went without saying personal and organizational playoff demons of the past had been exorcised. A team like the San Antonio Spurs doesn't get beaten by accident, and Los Angeles' first four games against the Houston Rockets only lent further credence to that notion.
This was the Clippers' year – until the Rockets' bulldozed them late in Game 6 to force a shocking do-or-die Game 7 and took Sunday's contest in convincing fashion to make it their own, of course.
There's no single reason for Los Angeles' sudden demise. It's easy to single out Thursday's historic loss as the turning point, but the Clippers also let Game 2 slip away despite a similarly commanding lead. Paul will face the same type of narrative scrutiny he does annually this time of year; Blake Griffin is due major criticism after a strangely despondent Game 7 performance; and Doc Rivers will be vilified for consistently poor roster-building that ensured his team's supporting cast would be the worst of any contender.
And a lot that of wholesale judgement will be just. Los Angeles should be in a posh San Francisco hotel at the moment, awaiting a Tuesday game against the Golden State Warriors instead of making the extra long flight back to Southern California from Houston.
The Rockets were certainly relentless in overcoming a 3-1 deficit to win this series. James Harden played like the MVP when it mattered most, Josh Smith made his season far more memorable than for his dismissal from Detroit, and Dwight Howard regained the form so many were certain he'd lost forever. Houston deserves the opportunity to play for a championship.
Make no mistake, though. The Rockets only have that chance because the Clippers basically begged them to take it. What Rivers will have to decide going forward is why that proved the case.