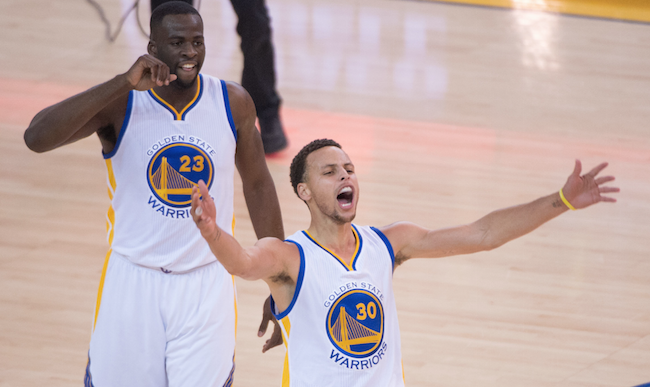 The Golden State Warriors aren't quite who you think they are.
This team is indeed basketball's most prolific and accurate one from long-range. Golden State's share of total field goal attempts and points from beyond the arc both lead the playoff field, and the 525 combined treys of Steph Curry and Klay Thompson were easily the most recorded by a pair of teammates during the regular season.
As you've no doubt heard by now, the Warriors are elite on defense, too. Steve Kerr's club ranked first in defensive rating this season with a mark of 98.2. Though Golden State's performance on that end is hardly owed to a single player, the influences of Draymond Green and Andrew Bogut – the only teammates to place top-six in voting for Defensive Player of the Year – reign most supreme.
The Warriors score with ease by splashing treys and passing the ball, and curb opponents with consistency by limiting rotations and switching whenever necessary. If you're something slightly more than just a casual NBA fan, none of that information is revelatory. What could be, however, is the factor from which Golden State's sweeping dominance most stems:
Tempo.
Looking every bit the team that led the league in pace, the Warriors beat the Memphis Grizzlies 98-78 on Tuesday to take a crucial 3-2 lead in the teams' Western Conference Semifinals series. Thompson and Curry scored 39 points between them to lead Golden State, but it was still a dominant team effort more than anything else – the kind that reminds just how good the blue-and-gold can be when player movement rules the day.
It rarely does against Memphis, of course. Dave Joerger's team plays a gritty, deliberate style that lends itself to games played in the 80s and 90s. The Grizzlies don't struggle for points the way their box scores normally suggest, just like they aren't quite so stingy, either. A game's number of possessions can drastically influence that surface-level analysis, a reality which often proved the case with Memphis this season – it ranked 26th in pace.
Before this series, the notion that transition opportunities would play nearly as vital a role as three-pointers wasn't surprising. The Grizzlies would try their hardest to prohibit them, while the Warriors would their hardest to create them. And Wednesday's contest shows what can happen on both sides of the ball when the latter wins that game within the game.
Golden State racked up 29 fast-break points throughout the course of Game 5, seven more than in any other game this series. But digging a bit deeper reveals a statistical anomaly that should scare the hell out of Memphis and any other potential Warriors opponent: Curry and company enjoyed such immense success on the break in a game played at a snail's pace. NBA.com estimates 89 possessions for Game 5, five fewer than this series' average coming into Wednesday night.
But the Grizzlies' commitment to grinding still couldn't slow Golden State completely.
A common third-quarter sight on Wednesday was Andre Iguodala getting ahead of the pack for easy dunks.
[protected-iframe id="e5dac6ed82422e58ba6014fcfd31b048-60970621-45855480″ info="http://gfycat.com/ifr/InsecureGratefulGiantschnauzer" width="600″ height="306″ frameborder="0″ scrolling="no"]
The fleet-footed swingman's defender? Zach Randolph. Asking Z-Bo to run with an athlete the caliber of Iguodala is a losing proposition, and surely a request Joerger would never make. It falls on Randolph's teammates to pick up his man in transition, then, but that's an on-fly adjustment far easier said than done.
And it's precisely the versatility of Warriors like Iguodala that forces Memphis' hand. If he, Harrison Barnes, and even Thompson and Shaun Livingston can do a reasonable Green impression against Randolph and Marc Gasol on the block, Golden State can play even faster than normal when any opportunity to do so presents itself.
The Warriors' speed advantage against the lumbering Grizzlies, though, is manifested on more than obvious fast-break possessions. Kerr constantly urged his club to rush the ball up the floor on Wednesday, hoping to catch Memphis scrambling. This triple by Barnes, for instance, came after a made basket.
[protected-iframe id="a07cd54077313791ff3c90fea3f780be-60970621-45855480″ info="http://gfycat.com/ifr/UnnaturalClosedAmericancrocodile" width="600″ height="322″ frameborder="0″ scrolling="no"]
The lasting images of Iguodala and Barnes – who combined for 30 points, six rebounds, and four assists – from Game 5 will be soaring dunks on the break or made treys in secondary transition. But the Warriors' versatile wings still made hay in the halfcourt as finishers and playmakers.
Barnes and Green again exploited Randolph's lack of quickness – and eagerness to help on a Curry screen, by the way – on this simple post and back-cut.
[protected-iframe id="9523e588fa48c36a82db11bf30b988ee-60970621-45855480″ info="http://gfycat.com/ifr/HotForkedGoldenretriever" width="600″ height="320″ frameborder="0″ scrolling="no"]
It's the three plays profiled here that make Golden State such a devastating team. The Warriors' individual brilliance makes headlines; the two-way success makes them a contender; and their awesome depth makes a common talking point of local and national broadcasting duos.
But it's Golden State's on-court cohesion that most accounts for its unparalleled success. Everything this team is about has a far-reaching influence in scope.
The imminent threat of Curry makes the Warriors go offensively, but wouldn't loom as large if not for the spacing provided by their nominal power forwards. Green's impact fuels everything on the other end, but Golden State couldn't defend the way it prefers if his teammates couldn't duplicate his performances in doses. The Warriors create turnovers to run, and run to create turnovers.
The corollaries go on, and on, and on.
On Wednesday, it was tempo that set the tone for Golden State's crucial Game 5 win. And if the Warriors can manage a similar brand of controlled frenzy going forward, they not only should beat the Grizzlies, but re-emerge as the league's consensus title favorite, too.