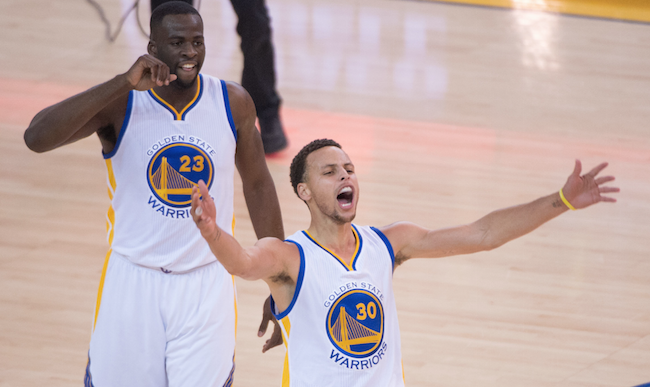 The Golden State Warriors aren't quite who you think they are.
This team is indeed basketball's most prolific and accurate one from long-range. Golden State's share of total field goal attempts and points from beyond the arc both lead the playoff field, and the 525 combined treys of Steph Curry and Klay Thompson were easily the most recorded by a pair of teammates during the regular season.
As you've no doubt heard by now, the Warriors are elite on defense, too. Steve Kerr's club ranked first in defensive rating this season with a mark of 98.2. Though Golden State's performance on that end is hardly owed to a single player, the influences of Draymond Green and Andrew Bogut – the only teammates to place top-six in voting for Defensive Player of the Year – reign most supreme.
The Warriors score with ease by splashing treys and passing the ball, and curb opponents with consistency by limiting rotations and switching whenever necessary. If you're something slightly more than just a casual NBA fan, none of that information is revelatory. What could be, however, is the factor from which Golden State's sweeping dominance most stems:
Tempo.
Looking every bit the team that led the league in pace, the Warriors beat the Memphis Grizzlies 98-78 on Tuesday to take a crucial 3-2 lead in the teams' Western Conference Semifinals series. Thompson and Curry scored 39 points between them to lead Golden State, but it was still a dominant team effort more than anything else – the kind that reminds just how good the blue-and-gold can be when player movement rules the day.
It rarely does against Memphis, of course. Dave Joerger's team plays a gritty, deliberate style that lends itself to games played in the 80s and 90s. The Grizzlies don't struggle for points the way their box scores normally suggest, just like they aren't quite so stingy, either. A game's number of possessions can drastically influence that surface-level analysis, a reality which often proved the case with Memphis this season – it ranked 26th in pace.