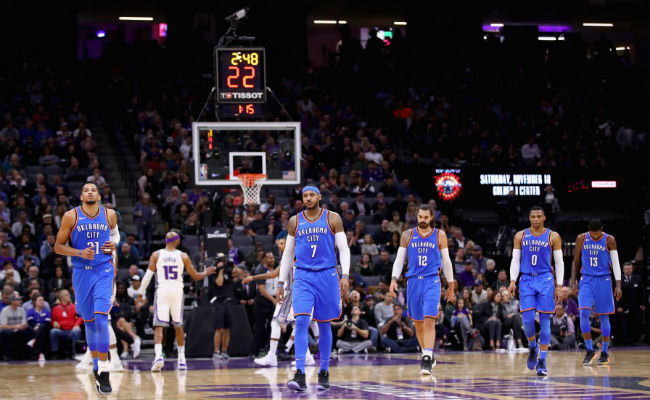 Last week was an emotional one for the Oklahoma City Thunder. Two Thunder stars — Paul George and Carmelo Anthony — visited their former teams. They also fought through a grueling triple-overtime win against the Philadelphia 76ers that made some optimistic the team had finally come together and might put their struggles behind them.
But winning in the NBA is never easy, and figuring things out in OKC is more complicated than just putting "stars" together and watching them produce magic. And people are getting impatient in Oklahoma City as the Thunder hover around .500. Everyone involved is preaching that they need more time to figure things out and that they're not losing hope, but we're less than a fortnight away from 2018 and few things look sorted for the Thunder.
The latest rumor is that George could go, sinking the experiment with he and Russell Westbrook and Anthony early in return for assets that might help a rebuild around Russ in the future. But the problem with the Thunder isn't just that its trio of stars aren't clicking. The whole team doesn't work because their graphic design is just terrible.
There's always been something off about the Thunder's color scheme since moving to Oklahoma City in 2008. It's a discomforting shade of blue and orange, like an old Knicks Starter jacket left to weather in a gutter somewhere. Light reflecting off the Thunder blue makes it appear different shades of itself, and none of them are particularly pleasant. The typefaces are weird and varied, never quite working well together. It feels like OKC have had dozens of uniforms in less than a decade, and I can't recall one of them actually working well.
But with Nike's takeover of the NBA's uniforms there was a real chance to fix the Thunder and put out some new uniforms that establish a firm look for the franchise. Not only did they not change much with the Association and Icon, their base uniforms just outright stink. They're somehow both boring and garish, with too-small text on the chest and the lame basketball/shield logo on the shorts. It's terribly generic all around, a poor first attempt at a rebrand when the team moved to Oklahoma City that the franchise seems too afraid to change.
But maybe the fourth time is the charm for OKC here, right? Nope! Here's their newest jersey option.
Was someone paid to make this? Seriously, the lines of fabric in the middle of the jersey don't make any damn sense at all. It looks awful on a hanger; can you imagine how it will look after 48 minutes of physical, jersey-grabbing basketball? It almost looks OK in a video game, but seeing it stitched up is pretty embarrassing. Again, it's the colors AND the design decisions here. Just failure on all fronts.
The mostly-black-and-orange OKC alts are the best option the Thunder have, which is probably why they've worn them a lot lately. That's not saying much, though, as the back of the jersey looks like the water feature in the abandoned mall near your house that closed during the last financial crisis.
And look at how proud of them Nike is, putting Paul George's entire torso behind another obscured NBA player during the company's official team shoot for the Statement uniforms. There are some truly excellent uniforms in that crop of Nike designs — including Golden State's "The Town" uniform and the nice Sixers script uniform Ben Simmons rocks next to Kevin Durant in that photo. But the Thunder uniform is a begrudging best option for a franchise that aesthetically ranks among the worst in the league by a wide margin.
Please, Oklahoma City. No matter what you do with the franchise and your players, please hit the reset button on your design identity after this year. Give Russ something he'll be proud to wear, not these weird blue pajamas I can't in good faith support. If Westbrook is going to be your franchise player, model your look on the way he plays. Fearless. Angry. Proud. Stop finding design inspiration in the create-a-franchise mode of video games and figure your whole deal out. Maybe it'll help the product on the floor, too.