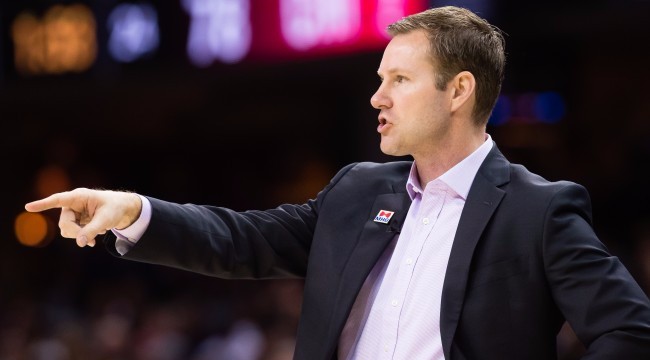 The Tom Thibodeau era of Timberwolves basketball has ended, but the TimberBulls may very well be alive and well.
Despite a 22-point win over the Lakers on Sunday, Minnesota decided to pull the trigger on firing Thibodeau as coach and team president. This has been expected to happen at some point since the Jimmy Butler trade fiasco, but the timing of the move was curious.
What may explain why the Wolves went ahead and fired Thibs shortly after a big win is who they are reportedly targeting as his replacement. Fred Hoiberg, who replaced Thibodeau in Chicago, is a former assistant GM in Minnesota and will reportedly figure heavily into the mix to either take on the coaching role in Minnesota or take over the front office. ESPN's Adrian Wojnarowski reports the Wolves are considering bringing Hoiberg in as coach and moving on from GM Scott Layden, possibly to bring in ESPN's Chauncey Billups to run their front office.

This isn't the first time Billups has been brought up in a rumor about taking on a general manager position, as he was reportedly in the mix in Cleveland — with Ice Cube going as far as to proclaim him as taking the job — before he decided to stick with his analyst position at ESPN. That proved to likely be the wise choice with LeBron James bouncing and Kyrie Irving pushing his way out of Cleveland, but now Minnesota presents an intriguing opportunity.
The Wolves have talent, namely young center Karl-Anthony Towns, but also something of a mess of a cap sheet with massive deals for Towns and Andrew Wiggins, along with the albatross that is Gorgui Dieng's deal that runs through 2021 (yes, two more years). It'd be a interesting challenge to build a playoff contender in Minnesota, but one that's certainly less daunting than the Cleveland situation was if he did indeed have the knowledge of Irving's departure and appropriate fear of James'.
As for Hoiberg, he's been linked to the UCLA job and that would help explain timing. Wojnarowski reported earlier in the day that he would be considered for both positions, in the front office and as head coach, but would only be given one. A Hoiberg-Billups tandem would be interesting, although Wolves fans would likely not be thrilled that they continue to just do the same things as a miserable franchise in the Chicago Bulls. Another name thrown out by Woj on Sunday was Monty Williams as someone to look out for in Minnesota's coaching search.