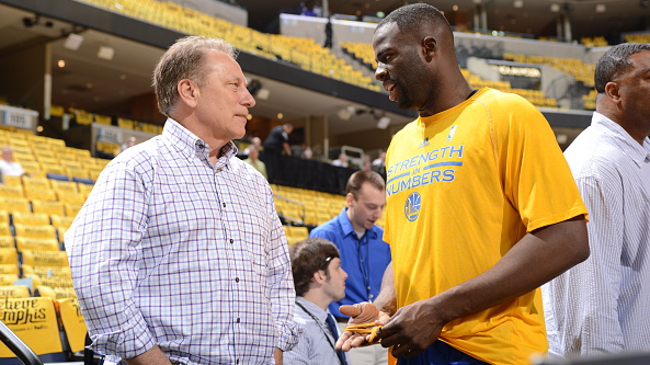 Maybe you're hesitant to blame the Warriors' Game 5 loss on the absence of Draymond Green, who was suspended for punching LeBron James in the crotch during the previous game. But at least some of the proof is in the pudding. Without him (and without Andrew Bogut, who went down early in the second half with a knee injury), the Cavs basically ran amok in the lane, outscoring the Warriors 48-30 inside the paint.
As the team's spiritual leader and defensive stalwart, Green is always quick to take the bulk of the responsibility, warranted or not. According to his former college coach, he was particularly disappointed with himself after Monday night's loss. Via Daniel Brown of the Bay Area News Group:
Tom Izzo, who coached Green at Michigan State, has been in frequent contact with the Warriors' suspended forward over the past two days and told ESPN that Green suffered mightily while watching Game 5 from afar.

"That passion of feeling like he let his teammates down, his city down, his owner down," Izzo said Tuesday. "All those things were going through his mind."
It's debatable whether Green's presence would've been enough to slow the two-headed hydra of LeBron and Kyrie Irving on Monday night and clinch the series, but then again, the evidence shows that none of the Big 3 plays particularly well when Green is defending them, as he so often does in the Warriors' switch-happy schemes.
Fortunately for Warriors fans, Green should be back in the starting lineup when the Warriors head back to Cleveland for Game 6 on Thursday, which tips off at 9 p.m. ET on ABC.