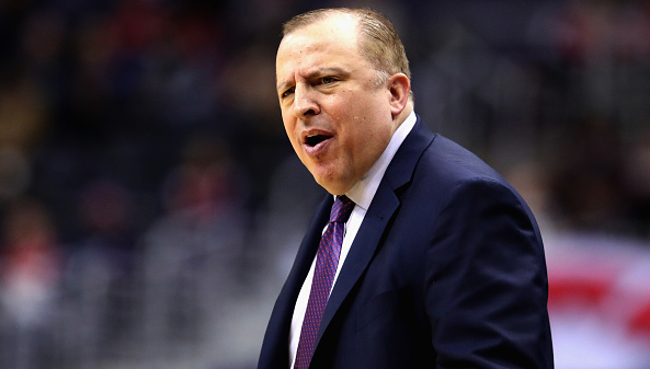 On the surface, the Minnesota Timberwolves had their most successful season since the Kevin Garnett era. They finished with a winning record for the first time in 13 years and ended a playoff drought that had lasted just as long. It was in no small part because they added veteran leadership and a bonafide All-Star in Jimmy Butler to help their talented young core get over the hump.
But behind the scenes, it turned out to be volatile mix. Andrew Wiggins and Karl-Anthony Towns apparently weren't thrilled with having to take a backseat to Butler last season, while Butler allegedly grew increasingly frustrated with their inability to step up in key moments and make meaningful contributions on the defensive end.
All of this combined to create the impression that the team could be headed for a breakup this summer or the next, as Butler has turned down a contract extension with the team to become a free agent next summer and is rumored to have some interest in joining LeBron in Los Angeles.
Speaking to fans at the Minnesota State Fair, head coach Tom Thibodeau, for his part, says it's all much ado about nothing and reiterated his belief that the team's continued success will trump any of the interpersonal obstacles that might linger this season and threaten their collective future. Via Jerry Zgoda of The Star Tribune:
"I've been around a long time; I don't buy into any of that stuff," Thibodeau said. "You have to distinguish what's real and what's not real. You never heard any of that come from Jimmy's mouth. It's always a source close to Jimmy. If Jimmy has something to say to someone, he usually says it directly."

"The biggest thing is chemistry on the floor and winning. How efficient they are tells you there's strong chemistry on the floor."
There's still the question of whether Towns will agree to an extension with the team this summer, which could go a long way to reassuring both his team and the fans about his commitment to the Wolves. Thibodeau has said that he's "very optimistic" about that outcome, though failure to get that deal done could have the team staring down the possibility of losing both him and Butler next summer.
After their resurgence last season, that's a tough reality to face. If Thibs is right and their future depends on success, then they'll face tremendous pressure next season to prove that they have another leap in them and that they're ready to compete with the very best teams in West.
(Via The Star Tribune)