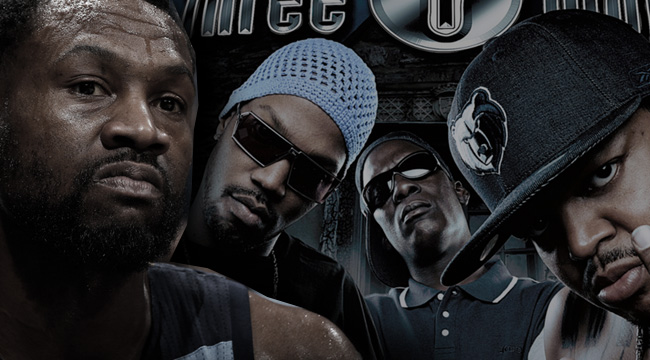 On Tuesday night, Tony Allen will be hosting a karaoke night in Memphis to benefit JIFF, a charity that helps children in dangerous situations. It's a great thought, and karaoke nights are often the best form of charity event in that they provide some special memories while raising money. Even though the Memphis Grizzlies have been ravaged by injuries, Allen's leadership (and occasional scoring outbursts) have kept them in playoff position. Now, he'll be taking his leadership to the microphone — and we have some ideas for what should be on the DJ's playlist.
Karaoke Standards
5."Don't Stop Believing" — Journey
There has never been a karaoke night that has not included this song. It is inevitable, but it's also the most predictable choice possible, which is why it can't do any better than the bottom spot here.
4."Hey Ya" — Outkast
For a while there, this was almost as overplayed as Journey, but distance makes the heart grow fonder. It's impossible not to get down to this song, and it's not as difficult to pull off as, say, "Ms. Jackson."
3."Touch the Sky" — Kanye West
Kanye's one of the biggest names in music, but "Touch the Sky" harkens back to a time when simply getting an album released to critical acclaim was his version of making it. It's joyous, shows off your technical dexterity without being too difficult to rap, and like Kanye, Tony Allen is from Chicago.
2."Thong Song" — Sisqo
This is more of an opinion pick than any of the other tried-and-true ones in this list. It's my deeply-held belief that an accurate and soulful rendition of "Thong Song" would destroy any karaoke event, if only because the tune has faded from the public consciousness with time more than certain '90s songs, which we'll get to.
1."Pony" — Ginuwine
We don't need to discuss this, do we? When you throw that song up on the screen, you don't even need to sing — the whole crowd's gonna do it for you, and they're going to get freaky while they do it.
Grit 'n Grind Classics
5."Automatic" — E-40
Even though E-40's rhymes are knottier than a rope twisting in the wind, this is possibly the best-remembered song off his 2002 album Grit 'n Grind — see where we're going with this? Plus, that "Automatic, systematic" hook will still get 'em singing along.
4."Hustle Hard" — Ace Hood
No one hustles harder than Tony Allen, and Ace Hood's banger from a few years back evokes the fist-clenching drama of the streets like few other songs. What's more, that chorus would make for a great call-and-response from the crowd.
3. "We Don't Bluff" — DJ Paul x Drumma Boy
I mean come on, it's an anthem written specifically for the Grizzlies by Memphis' own DJ Paul of the Three 6 Mafia, whom we haven't seen the last of on this list. If Tony Allen doesn't know every word to this song, we'd be shocked.
2."Stay Fly" — Three 6 Mafia
The most enduring hit by the most well-known Memphis hip hop group of all time. If it's a Memphis party and this song comes on, you better believe everyone in the entire building will be yelling "I gotta stay fly-y-y-y-y-y-y-y" until their voices are hoarse.
1."Grindin'" — Clipse
It is hands-down the greatest song ever made with either "Grit" or "Grind" in the title. Sure, its popularity was a shocker in part because of its lack of pop sensibility, but screw that. It's an unimpeachable song, and an unimpeachable choice in karaoke.