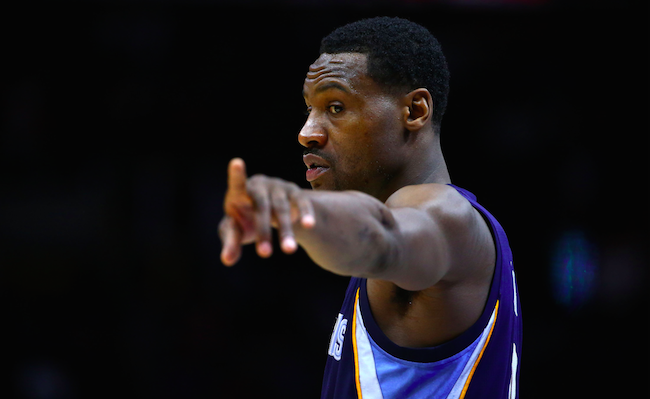 Incessant gritting and grinding has made Tony Allen's career. It's not exactly surprising, then, that his hyper-intense attitude would occasionally be directed at a friendly foe. Following Allen's team levied suspension for the Memphis Grizzlies' loss to the Utah Jazz last night comes a report that he engaged a "physical confrontation" with teammate Nick Calathes during a recent practice.
Via Ronald Tillery of The Commercial Appeal:
Allen was suspended for the game because of violating a team policy.

After more digging into the issue, Allen's physical confrontation was apparently with Calathes during practice. Frustration clearly is building with the team playing poorly and the starting unit lacking consistent and forceful play.
Grizzlies coach Dave Joerger announced Allen's one-game suspension during pre-game media availability yesterday. He refused to specify what prompted the discipline, simply stating that it was a "violation of team rules." Calathes played 21 minutes versus Utah.
This isn't the first time Allen has been physical with a teammate. In 2011, he infamously fought O.J. Mayo on the team plane after the latter refused to pay a gambling debt.
Allen will return to the lineup for tonight's matchup with the Houston Rockets. 42-17 Memphis has lost three of its past four games – all by double-digits.