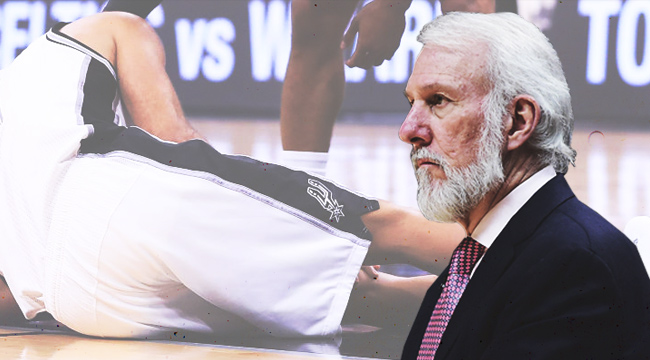 Tony Parker's 2017 postseason is over. The San Antonio Spurs' longtime point guard suffered a torn quad on Wednesday night, ending his quest to pick up the fifth NBA championship of his career.
It was a rough ending to what was maybe the worst year of Parker's career. His 63 games played were the fewest he's played in a season that did not include a lockout. His 25.2 minutes per game were the lowest of his career. By player efficiency rating, this was the second-worst season of his career. By value over replacement player, box plus/minus, and win shares, it was his worst.
This all illustrates a pretty simple and obvious fact about Parker: the dude is getting old. Parker is going to be 35 in a little less than two weeks and between the regular season and postseason, he's played nearly 44,000 minutes in his career. For a guy who's not a physical marvel and whose quickness was among his best attributes, it's not exactly shocking that Parker has slowed down considerably as he's gotten older.
Which leads to San Antonio's issue regarding Parker, namely that the franchise needs to figure out who is going to fill in for him. In the short-term, that's probably not too big of an issue. For the remainder of the postseason, Patty Mills is certainly capable of filling in for Parker, as he has whenever Parker has been out for the last few years. There's also Dejounte Murray, a talented rookie guard who stands at 6'5 and has shown flashes at time this season. And of course, in the event of an emergency, Manu Ginobili – another aging star whose best days are behind him – is capable of initiating the team's offense.
Besides, in this postseason, San Antonio's success was always going to be defined more by Kawhi Leonard and LaMarcus Aldridge than Parker. Losing him for the stretch run hurts, surely, but compared to years past where losing Parker would completely ruin the Spurs, this is a manageable problem with solutions on hand.

But the bigger thing is what do the Spurs do next. Continuity is important in basketball, and no team has been better at the whole "continuity" thing over the last two decades than San Antonio. One of the people at the heart of this has been Parker, who is about to be 35, has been playing in the NBA since 2001, and has one more year left on his contract before he hits free agency.
For the last 15 years, San Antonio has not had to worry about who is starting at point guard, because it's had Tony Parker, and he's been extremely good. There have been the times he's been injured and the games where Gregg Popovich has rested him, but when he's been able to go, it's been his job because he's been the team's best option.
If Parker is at a point where that's no longer the case, the Spurs' next step could be fascinating. Mills is on an expiring contract, so San Antonio could conceivably bring him back. Maybe the team likes Murray a lot, and after this year of sitting behind Parker and Mills, he'll be able to take on a bigger role next season as Parker's sole backup in the event Mills leaves.
Or maybe the answer is not currently on the roster. Perhaps San Antonio has its eyes on someone in the draft (remember, it got Parker with the 28th pick in the 2001 draft, so it's found diamonds in the rough before). Or maybe there's a chance the team spends some money to bring a guy in in free agency.
Enter Chris Paul.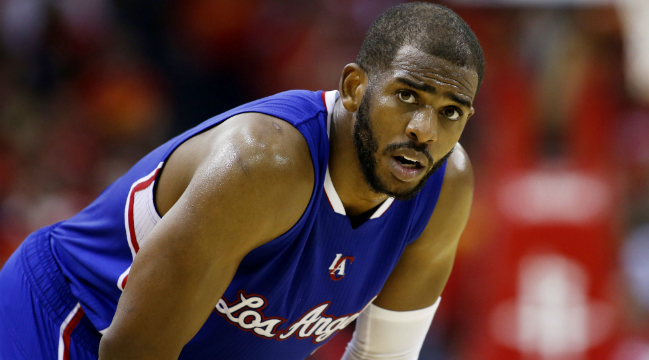 The single most intriguing move that any team, save for Golden State or Cleveland, can make this offseason would be San Antonio acquiring Paul. The Clippers guard has a player option for next year, and if he opts out, he is on the open market.
Now it is important to say that this is nothing more than a theory and so far there's nothing concrete that suggests Paul would sign with the Spurs. In fact, there's nothing that suggests Paul really wants to leave Los Angeles – Doc Rivers has said that he wants to keep the team's core of Paul, Blake Griffin, and DeAndre Jordan together.
But in terms of fit, this makes all the sense in the world. The Spurs, if they honestly believe it's time to look at what's next, will need a point guard. Paul is still the best pure point guard in the world and could get the opportunity to play for a legitimate title contender for the first time in his career. Getting into the financials could be tricky – the Spurs don't have the room for the max contract Paul could probably get elsewhere right now, and with one more year on Parker's deal, Paul's salary alongside the $15.5 million Parker is set to make would be a lot for two guys who play the same position – but if that all gets resolved, this is the perfect mix of team and player.
If Paul doesn't work, the point guard market this offseason should be pretty good. Steph Curry aside (because, come on, he is re-signing with the Warriors), Kyle Lowry has a player option, while guys like Jrue Holiday, George Hill, and Jeff Teague are all unrestricted free agents. Plus there's always the possibility that San Antonio thinks Mills is the guy who should replace Parker, which is probably the easiest solution.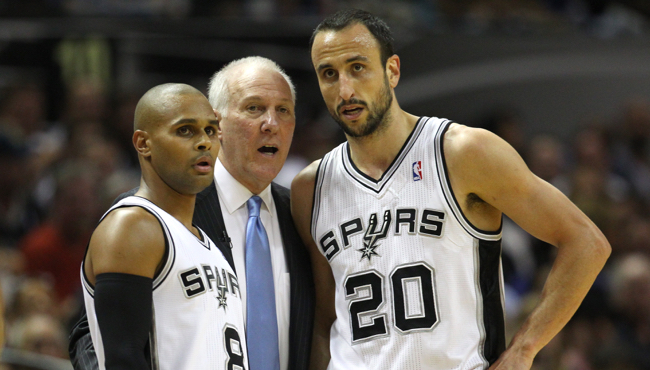 No matter what, San Antonio has a major decision to make this offseason. With the end of Parker's career appearing on the horizon, do they play the long game or give Parker the keys for the last year of his contract in what could be his final hurrah?
The Spurs will probably end up doing the right thing, because they are the San Antonio Spurs and they always seem to make the correct decision behind Popovich and R.C. Buford. As for what that would be, there's still plenty of time before we get an answer.