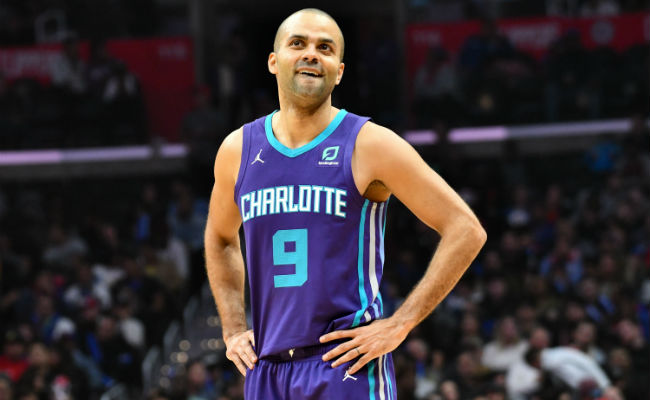 When Tony Parker agreed to a deal with the Hornets and left the Spurs, it was stunning. Sure, players had left the Spurs before, but never had one of the original title-winning trio done it. Parker, alongside Manu Ginobili and Tim Duncan, were the faces of the Spurs dynasty. Duncan and Ginobili retired as Spurs. The assumption was that Parker would end up doing the same.
But the veteran guard went in a different direction. Parker left to go play with former Spurs assistant James Borrego, and French national team teammate Nicolas Batum in Charlotte. But you could argue that exit from San Antonio happened in a very odd way. You would think this would have been the result of a lengthy discussion between Parker and the Spurs where the two sides couldn't reach an agreement. But no, Parker simply called the Hornets and asked for an offer. When they made one he took it. And the Spurs weren't even given a chance to make a counteroffer.

That's according to an ESPN report by Michael C. Wright, which was released on Monday.
They really didn't take me seriously that I was going to leave," Tony Parker says in a room full of folding chairs at the Spectrum Center in Charlotte, North Carolina, more than 1,200 miles from the place he still calls home.

Still hurt by his departure from San Antonio, Parker nonetheless wants to "focus on the great 17 years we had."
Parker leaving was stunning enough, but that he pretty much didn't give the Spurs a chance to keep him around says just how ready he was to make that decision. He really never gave San Antonio a chance to match that offer the Hornets gave him.
"A little bit like Pop and R.C. in that I don't think JB believed I was going to leave," Parker explains. "So then I called him again two or three days after that and told him: 'I'm not saying this to get an offer for the Spurs to match. You give me an offer, and I'll sign right away. I'm not even going to bring it to the Spurs."
What's funny is Parker said part of the reason he left had to do with him not wanting to finish the career on the bench as a third-string guard. He wanted to play. Then, the Spurs lost Dejounte Murray for the season to injury and Derrick White for a significant portion of time as well. The Spurs really could have used Parker this season.
That's all in the past now though. Parker is in Charlotte and has been playing solid basketball. He's gotten playing time, as he wanted, and is averaging 19 minutes per game. He's of course not the dominant force he once was, but he's contributing. The Hornets are in eighth place and he's having an impact. For Parker, he got exactly what he wanted.