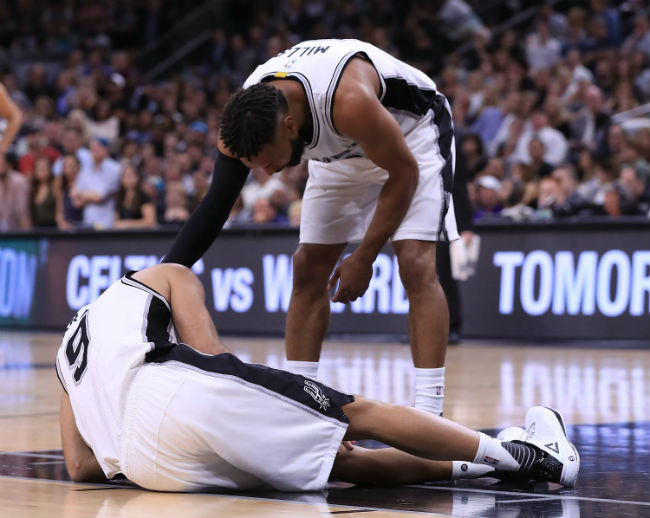 Tony Parker's postseason run with the San Antonio Spurs is done. The team announced on Thursday that Parker will miss the rest of the postseason.
Parker was injured Wednesday night in the fourth quarter of San Antonio's win over the Houston Rockets.
With 8:52 left in the fourth quarter, Parker immediately clutched at his left knee after a driving floater over Patrick Beverley and collapsed to the court, where he lay motionless for several minutes.

He rose to his feet but was unable to put any pressure on his left leg, so he was carried off the court by rookie guard Dejounte Murray and center Dewayne Dedmon.

Said coach Gregg Popovich after the game: "It's not good."

Here's video of the injury:
Parker did not return to the game. That's not the way you want to be carried off the floor by your teammates.

Parker underwent an MRI on his left leg on Thursday and the team feared the worst. The results were not great, and later the team made it official: a ruptured left quadriceps tendon.
The Spurs needed to be as healthy as possible throughout the playoffs, as their road to the Finals wasn't easy from the get-go. Memphis gave them all they could handle, and Houston has an MVP candidate and a stable of shooters who were going to make it difficult to even get a potential date with the Warriors. Without Parker, things get a little more dicey (although San Antonio was able to steal Game 2), and the team will have to rely even more heavily on its stars.
There's no timetable for surgery just yet, but Parker's season is now over. That puts San Antonio into a bit of a bind, as their supply of solid ball handlers who are not named Kawhi Leonard is now extremely low.