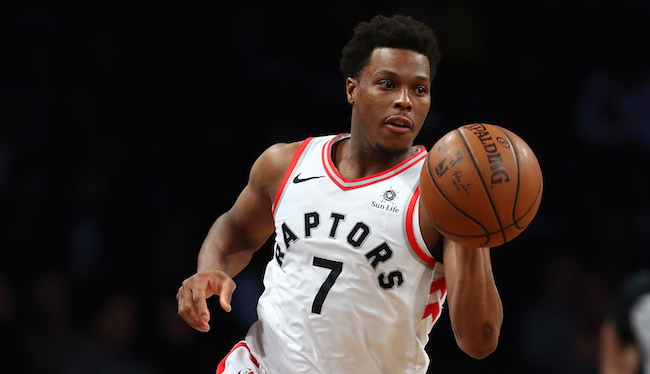 The Cavs hosted Toronto on Wednesday night with a shorthanded squad (but still with LeBron James) to take on the red-hot, Eastern Conference leading Raptors. After a first quarter in which neither team could get a stop, Cleveland led 42-38 and both teams were on a ridiculous scoring pace that no one expected to continue.
Cleveland followed the normal pattern of regression following an unfathomably hot quarter, scoring 22 points to head to the half with a still robust 64 points on a strong 60/66.7/90.9 shooting split. Normally, that'd be great. On Wednesday, due to some horrendous defense (and incredible shooting by Toronto), the Cavs found themselves trailing by 15 at the break after allowing the Raptors to roll up 79 points.
Toronto's shooting splits were pretty comparable to Cleveland's at 62.7/66.7/60, but the major difference was Toronto having five more offensive rebounds and three fewer turnovers than the Cavs, giving them 11 more shot attempts in the half. As has been the case for much of the season, the Raptors pulled away behind the efforts of their bench unit. Fred VanVleet led Toronto in scoring in the half with 14 points, capped off by a wide open corner three with under a second to play in the half, courtesy of some atrocious defense from LeBron James.

James' effort and attentiveness on that play to VanVleet's fake backcut was indicative of the Cavs team effort the entire half. VanVleet hit four threes in the half, as did Lowry, and in this supercut of all of those makes you can see how badly Cleveland was scrambling on defense as Toronto moved the ball around.
It wasn't just three-pointers, as at times it looked like layup lines for Toronto — although in this example it's a sweet pass from Lowry on the pick and roll to find the wide open Jonas Valanciunas standing under the rim.

The Cavs being without Rodney Hood, Tristan Thompson and Larry Nance Jr. in this game means you can't make wide, sweeping declarations about this Raptors team being vastly superior to Cleveland — and two more quarters could see the game tighten up significantly. That said, Cleveland still has some clear defensive issues and the Raptors can at least take the effort as an encouraging sign that they can take advantage of porous Cavs defense when it presents itself.
On the other hand, Toronto will not be thrilled with its own defensive effort in that half, and for Cavs fans looking for a silver lining, its that the shorthanded squad was still able to carve up this Raptors defense and stay within arms reach despite one of the worst defensive halves all season in the NBA.