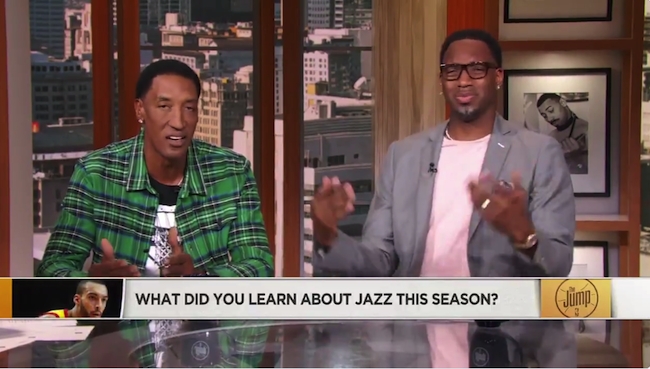 Former NBA players turned analysts, particularly those that are in the Hall of Fame, tend to get frustrated when they see players not doing something that they found easy when they played. The best example of this comes from Inside the NBA where Shaq, the most physically dominant center since Wilt Chamberlain, and Charles Barkley, one of the best scoring power forwards in NBA history, can't understand why today's big men aren't capable of dominating on the block.
They aren't alone, though. Tracy McGrady is a regular on ESPN's The Jump, and on Wednesday, he joined Rachel Nichols and Scottie Pippen for a discussion of the Utah Jazz. What was supposed to be a discussion of Utah's season quickly devolved into a McGrady rant directed at Rudy Gobert and other centers around the league, with Pippen operating as an attempt at being the voice of reason in the argument.
McGrady, like Shaq and Barkley, is very mad that Gobert, "bigs in Minnesota," and others around the league can't take advantage of mismatches in the post when teams switch. T-Mac launched into a rant about how these guys are 7'2 and can't score in the post on a point guard, while Pippen tried to calmly explain that Gobert could work on it all he wants, but he's just never going to be an offensive player in that mold.

There are merits to both sides of this. McGrady's frustration is felt by many who see a 6'3 point guard switch onto a gigantic center like Gobert and not get scored on. However, while McGrady was a tremendous offensive player, Gobert's elite gifts on the basketball court lie on the defensive end where his length, basketball IQ, and long strides make him one of the game's best rim protectors.
Pippen was trying to explain that, but McGrady simply can't understand how you can be a foot taller than someone and not score over them. McGrady can absolutely make the point that Gobert's greatest opportunity to improve as a player is on the offensive end where he could become an extremely dangerous player if he adds more to his arsenal in the post. However, if it's not part of his game now (which it isn't) it's for the best that he's not pulling a Hassan Whiteside or Dwight Howard and demanding more touches when that would hurt the team.