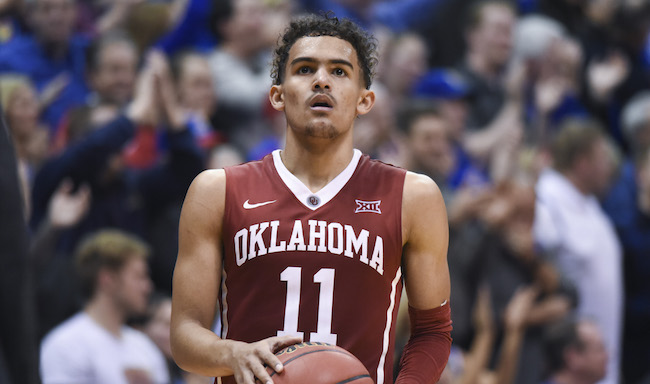 One of the biggest names in college basketball this season has been Oklahoma guard Trae Young. He led the nation in scoring and assists this year as a true freshman, which was a remarkable feat, but the Sooners limped to the finish line as a team after a torrid start to the year and lost to Rhode Island in the first round of the NCAA Tournament.
Young had a big game in the 83-78 overtime loss to the Rams, going for 28 points, seven assists, and five rebounds. To many, the assumption is that this is the final game of his collegiate career, as Young is expected to be a lottery pick in the 2018 NBA Draft.
Rayford Young isn't so sure that his son should go pro. After the game, the patriarch of the Young family explained that he's not necessarily sold on the idea of his son making the jump to the NBA just yet.

"I would love for him to think about coming back and maybe being national player of the year next year," Young said, according to Pat Forde of Yahoo! Sports. "But it's his career, his life."
Young did go onto say that his family is "so proud that we have a conversation ahead of us." As for Trae, no matter what he decides, he seems excited for whatever the future holds.
Young averaged 27.4 points and 8.8 assists per game for the Sooners this year. He was long considered a serious contender for the Naismith Player of the Year, although he was not included in the four finalists for the award, and in our latest mock draft, we have him going to the Orlando Magic with the sixth overall pick.