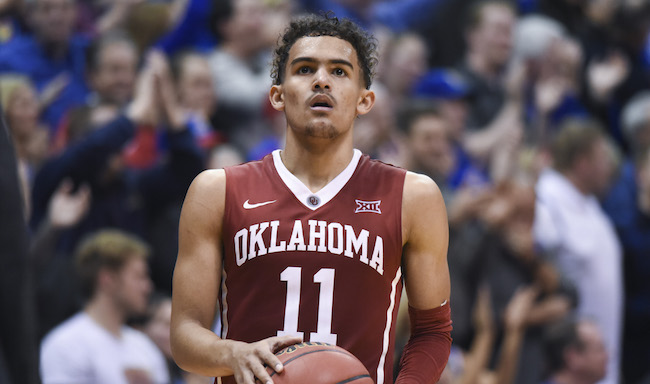 Sneaker companies are starting to make their presences felt on the 2018 NBA Draft. On Monday, Puma announced its decision to get back into the basketball apparel game as the company made a major splash and signed Deandre Ayton and Marvin Bagley III. One day later adidas is getting in on the fun.
Adidas announced on Tuesday morning that it signed a pair of players who are expected to go in the lottery a little later this week, as Oklahoma guard Trae Young and Miami guard Lonnie Walker IV will join James Harden, Damian Lillard, and a number of other basketball players on the brand with three stripes. In a release, the company said it plans on featuring the pair " in upcoming brand campaigns and activations."
"After seasons of holding down highlight reels, Trae and Lonnie are both heralded for their elite skillset and creativity on-court," the release read. "Their path to the NBA started with loyalty to family and community and further solidified by their character, passion and dedication to the game."
While both players are expected to go later in the draft than Puma's pair, they're still going to hear their names called pretty early on Thursday evening. Walker projects as a potentially dynamic 3-and-D wing, while Young was the biggest name in college basketball last year, leading the nation in scoring (27.4 points per game) and assists (8.8 per game).