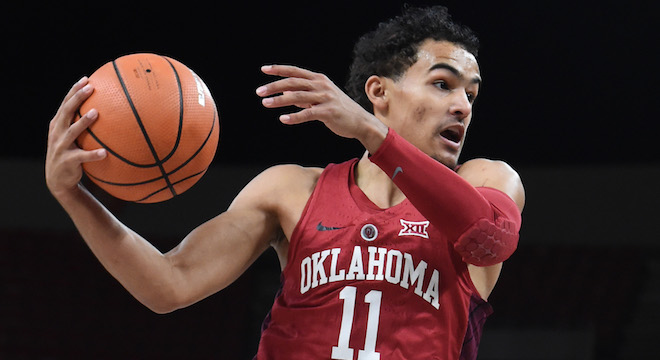 Trae Young may not be a recognizable name to the casual basketball fan just yet but that is likely to change in short order. Oklahoma's freshman sensation has been lighting the college game on fire in the early stages of the season and, on Tuesday, the talented lead guard exploded for an NCAA-record 22 assists in a (very) lopsided win over Northwestern State.
Young finished with 26 points (on 9-for-16 shooting with 3-for-6 shooting from three-point range) to go along with his 22 assists. This wasn't the first time he posted a ridiculously impressive stat line within the opening portion of his college career.
With this performance included, Young is now averaging an eye-popping 28.5 points and 10.2 assists per game while keying the Sooners to a 9-1 record. In the process, he is turning plenty of heads with regard to the 2018 NBA Draft. The 6'2 guard was a consensus top-25 prospect in his high school class but few were projecting Young as even a first-round pick after one college season, much less a player that could land in the lottery.
Now, though, Young's productivity, impressive skill set (one that includes impressive shooting range and handle) and overall profile seem to be placing him in the mock draft mix. Even thought it came against Northwestern State, a 22-assist performance should be recognized in a big way.