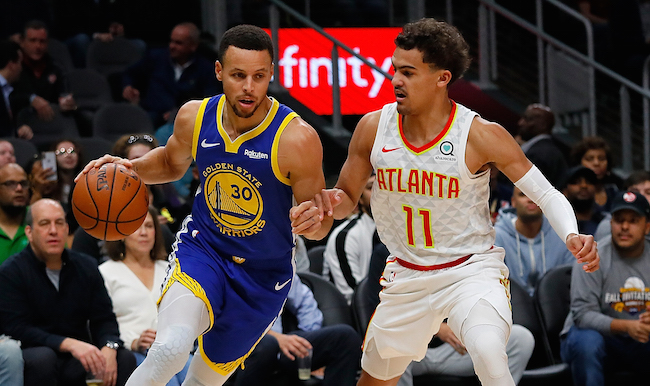 Trae Young was recently named the Eastern Conference Rookie of the Month, joining Luka Doncic from the West in receiving that honor. Young is averaging an impressive 15.8 points (third among rookies), 7.4 assists (best among rookies), and 2.9 rebounds per game in nearly 30 minutes per game.
However, you don't have to dive much deeper into the stat line to find areas of concern. Young is needing 14.8 shot attempts per game to get his 15.8 points, shooting a dismal 37.9 percent from the field and 23.9 percent from three-point range while taking nearly six triples per game. There were questions for Young coming out of the draft about how he'd fare in terms of creating separation for his shot, both on the perimeter and at the rim, in the NBA. To this point, those questions still have merit.
Still, Young is doing some positive things on the floor. He's finishing better at the rim than some anticipated (52.6 percent inside five feet) and his passing and vision is undeniable. Young was one of the most polarizing prospects at the top of last year's draft, and a quarter of the way through his rookie season, little has changed in that regard.
Part of why the Young debate continues to rage on, rather than him having some time to acclimate to life in the NBA, is the draft day trade that saw the Hawks move back to let the Mavs take Doncic at No. 3. Naturally, comparisons between the two are inescapable, and to this point, it's not exactly going well for Young in those comps.

While Doncic is off to an unbelievable start to his NBA career, Young is having the start that so many rookies have, particularly at the point guard position. Like rookie quarterbacks in the NFL, rookie point guards are thrown into the fire and asked to run a team and play the position that typically requires the most maturity on the floor.
Evaluating Young, and any rookie point guard for that matter, is extremely difficult because it is natural for them to make mistakes. It's made more difficult on a team like the Hawks, where Young is truly asked to do a spectacular amount on his own. Young has played at least 100 minutes with nine different players, and none of them would be considered even average ball-handlers/creators.
De'Andre Bembry is the closest thing to a point guard with whom Young has played significant minutes — Bembry has been used as the primary ball-handler at times this season when Jeremy Lin has been out — but his 17.9 assist ratio (the number of assists he logs every 100 possessions) is barely above league average. Otherwise, Young finds himself in the company of perimeter players few would call distributors, and that may be a factor in holding his shooting back. Oddly enough, Taurean Prince has the most assists on Young baskets at 12, and Prince is not considered much of a willing passer.
The conundrum the Hawks face with Young is that he's an exceptional facilitator, and as such, you want the ball in his hands as often as possible. B in turn, he's taking an ungodly number of shots by his own creation and those typically are less efficient shots. On the season, 71.1 percent of Young's made field goals have been unassisted. Only 11 players in the league that play 20 minutes per game have a higher percentage, led by the iso-dominant Rockets backcourt of Chris Paul and James Harden in the top two spots. Only seven players in the league fitting that same criteria have a higher percentage of unassisted three-pointers than Young's 51.5 percent.
Young hasn't been particularly effective shooting three-pointers off the catch, either. He's shooting 33 percent on catch-and-shoot threes this season, which isn't what you want to see from someone whose shooting was supposed to be one of his biggest positives coming out of the draft. Still, that is significantly better than Young's shooting off the dribble, as he's connecting on a hideous 20.2 percent of pull-up three-pointers this season. Even worse, he's taking 3.9 pull-up threes per game, compared to just 1.8 catch-and-shoot threes.
All the evidence points to Young needing to give up some of his own shot creation in favor of working to find space to get his shot off the ball, and that doesn't mean he has to give up his role as primary ball-handler and creator. If people are going to insist on trying to shoehorn a Steph Curry comparison onto Young so prematurely (and, really, unfairly), one aspect of Curry's game that Young should fully embrace is the way he moves off the ball.
The Young-Curry comparisons have stemmed mostly from their similar stature, propensity for hoisting long threes, and ball-handling abilities. The problem is, the shooting for Young, especially on those pull-up shots, is very much un-Curry-like. However, Young and Hawks coach Lloyd Pierce could do well to watch some Curry tape and try to have Young mimic his off-ball movement, particularly in the immediate aftermath of his pass and how he sets up screeners.
For example, on this play against the Pistons where Kevin Durant catches the ball in the high post on the wing, Curry darts from the top of the key to the wing and gently nudges (or pushes, depending on who you're a fan of) his defender into the middle of the awaiting screen from Kevon Looney to free himself for a wide open look — it definitely helps that Blake Griffin had to sag off to protect against a KD spin and drive.

There are two examples from Curry's 30-point performance against Young and the Hawks that the rookie can use for direct inspiration. At the 25 second mark and 1:20 mark of the below highlight video, you'll see two examples of how Curry is never static immediately after making a pass. In the first, Curry has a mismatch on John Collins, drives on the baseline, and kicks to the top of the key. He never stops moving, darting to the three-point line for a return pass where he fires a three before Collins' late contest can bother him.
The second example comes against Young, as Curry tosses a pass to Looney on the wing and runs into Young in the lane like he's going to make a cut and curl to the weakside of the floor. Instead, he bumps Young off balance and immediately sprints out towards the three-point line behind Looney, catching a pass and getting a wide-open three-pointer as Young gets screened by Looney (and likely would've been late on a contest anyways).
These are the types of things the Hawks can do to get Young better shots without needing a secondary ball-handler/creator. Using Young's passing ability to create shots for himself with constant movement and quick pass-backs from bigs and others to find him for catch-and-shoot opportunities when his defender is in chase mode.
Until Atlanta adds more talent around Young on the perimeter, he's always going to be asked to carry the load offensively as the creator. However, asking him to hoist twice as many pull-up three-pointers as catch-and-shoot looks when it's clear that's not something he's capable of doing efficiently is only going to hinder both his development and the rest of the team's.
Young has talent, and one would expect his shooting to regress to the mean (in a good way) in the coming months, but a way to assist him in that improvement is to, well, assist him. Part of that is on his teammates, but a lot of it is on Young to be more active off the ball to create separation before the he gets it. It's the part of Curry's offensive game that's probably the most under-appreciated, and if Young is to ever come close to making those comparisons not look like blasphemy, he'd be wise to implement that aspect of Curry's game quickly.