As smart as Ty Lawson is, he sure seems to get himself into trouble on social media. Lawson's latest gaffe comes via Instagram, where he responded to a presumed Nuggets fan who said Lawson was a disappointment in Denver. The new Rocket point guard's response singled out his former GM, Tim Connelly, and owners, Stan and Josh Kroenke.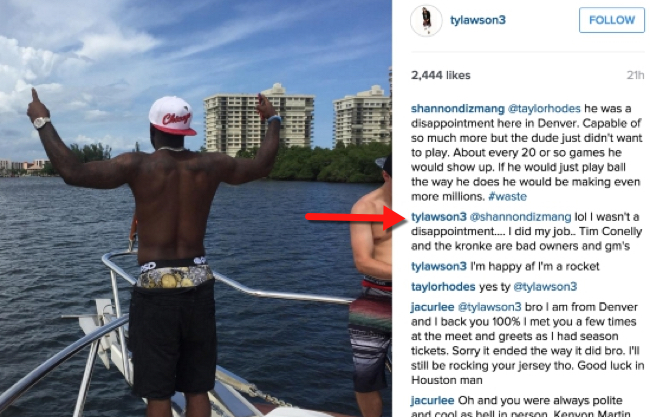 This isn't the first time Lawson's online behavior had made news. While appearing in a Livestream during the 2015 NBA Draft, Lawson was shown smoking a hookah and said he was going to be traded to Sacramento. Once, also over Instagram, he said he wished he could be traded to the Dallas Mavericks.
In normal circumstances, this wouldn't be the best look for Lawson. It's even worse, though, considering Lawson just got out of rehab and is trying to rebuild his image. Trashing your former general manager and owner, who at least publicly had your back after your latest DUI arrest, is not the best way to start.
Lawson has an amazing opportunity in Houston. He doesn't have to be "The Guy," he just needs to take the pressure off James Harden and Patrick Beverley. He also adds a lethal offensive dimension to the Rockets' bench, and could be the odds-on favorite to win the Sixth Man of the Year if Beverley spends the majority of the season as the starting point guard. All of this depends on whether Lawson actually seizes the opportunity, or lets it slip by instead. He needs to get his life back on track. Staying off social media, or at least avoiding any polarizing comments, is a small but significant step in the right direction.