Yahoo's Adrian Wojnarowski reported on Friday that the Houston Rockets may be looking to deal point guard Ty Lawson, who is also facing a two-game suspension — starting Friday night — stemming from his DUI arrest in 2014.
Lawson came out and said there was "no truth" to the rumors when speaking to reporters, but even if there's a chance Houston is looking to deal is a big blow considering the excitement his addition brought over the offseason.
Lawson is having a career-worst season, averaging only 5.9 points and 4.2 assists per-game, while shooting a putrid 32 percent from the floor. Despite that, he's proven in the past that he can be an above-average point guard on the offensive end. From the 2011-12 season to last year, Lawson averaged 15.2 points per game, and upped his assist numbers to be among the league leaders.
Although Lawson's play on the court this year has slipped and he has run into trouble off the court, it's entirely possible he could still turn his career around if he found the right fit. There are teams out there who could use a player like Lawson, whether it is in a starting role or coming off the bench, and the following three teams may be a fit should Daryl Morey choose to deal.
New York Knicks
Thanks to an improved starting lineup and the emergence of stud rookie Kristaps Porzingis, the Knicks have a real shot at making it into the Eastern Conference playoffs this season.
However, they do have a glaring weakness at the point guard position. New York is currently relying on veteran Jose Calderon and rookie Jerian Grant to provide quality minutes. Bringing in Lawson, who has had problems with alcohol in the past, may seem like a risky proposition in New York City, but if he could keep his personal life on the right track, he could provide the Knicks with the offensive spark they need on the perimeter.
Lawson for Calderon and Kevin Seraphin would work out, and although it's not a slam dunk for Houston, if Lawson could revert back to the way he played in his glory days in Denver it would certainly bump the Knicks into prime position for a playoff spot.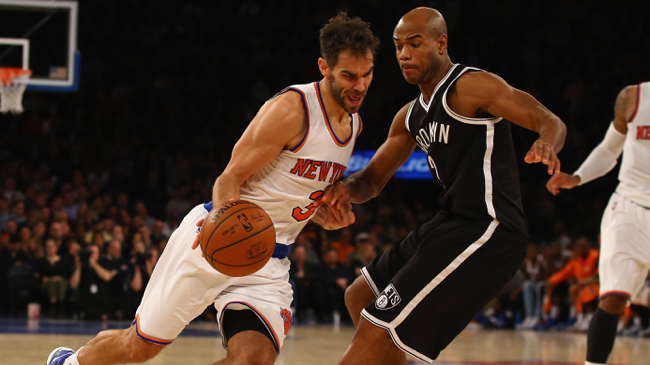 Brooklyn Nets
The Nets would have the same aforementioned problems the Knicks would have in terms of making sure Lawson kept his head straight while playing in the Big Apple, but he would certainly argument their talent level for a team that's floundering.
Jarrett Jack has been taking the starting role for the 7-18 Nets, and while his scoring and assist numbers are decent, he hasn't shot the ball particularly well at all, and his player-efficiency rating is a woeful 28th among NBA point guards.
Having Lawson instead of Jack would be an upgrade from a talent perspective, and while it's certainly a risk, the Nets aren't going anywhere right now. At the very least, they would have the rest of this season to see if Lawson gels with Brook Lopez as possible building blocks for the future.
The biggest issue for Brooklyn is they would likely have to give up promising second-year forward Bojan Bogdanovic if the trade values were going to match.
Chicago Bulls
There's no way the Chicago Bulls are going to trade Derrick Rose, but it's still possible they could be interested in bringing in Lawson as a sixth man who can give the Bulls a spark off the bench (Aaron Brooks, notwithstanding).
The Chicago bench has struggled to generate a consistent scoring punch, and Lawson would ideally be able to come in and provide that for Fred Hoiberg if he was able to duplicate the dribble penetration and three-point shooting he's displayed in the past.
There are a few options for trade possibilities between Houston and Chicago, but this deal would give Houston a package that includes big man Taj Gibson and veteran point guard Kirk Heinrich,  which could benefit both teams.
(Via Yahoo Sports)