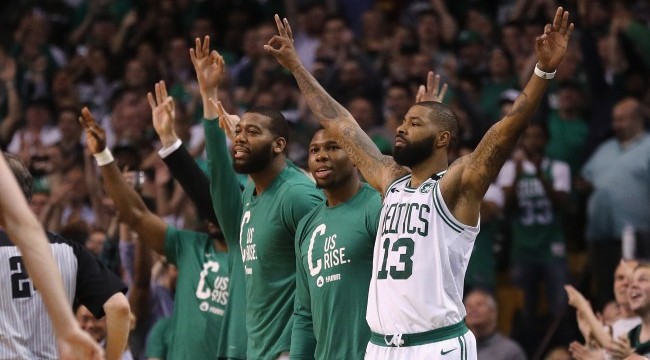 The Boston Celtics managed to defend home court during the first two games of their Eastern Conference Finals matchup with the Cleveland Cavaliers. Boston just looked like a team that wanted it more than Cleveland in Games 1 and 2, and while the familiar refrain of "the series doesn't start until the away team wins" looms large, no one is envious of the position the Cavs find themselves in right now.
The undermanned Celtics have been the physically and mentally tougher team thus far, with Cavs coach Ty Lue going as far as to accuse them of "gooning the game up."
"We gotta be tougher," Lue said. "I think they're playing tougher than we are. We see that. They're being physical. They're gooning the game up, and we gotta do the same thing. We gotta be tougher mentally and physically."

While it sounds like Lue is praising Boston for playing a tough, hard-nosed style of ball, the phrase "gooning the game up" can come off as an accusation that the opposing team is playing dirty. The Celtics don't appear to be mad at this, and as Dave McMenamin of ESPN wrote, they're actually embracing this description by Lue.
"I don't even know what to say to that," guard Jaylen Brown said. "I agree, I guess."

Boston forward Marcus Morris added his assessment.

"Gooning? That's a good word," Morris said. "S—, we're doing what it takes. Whatever it takes, every player, 1 to 15, whatever it takes, that's what we're doing. You call it what you want to call it. We're just trying to get the win."
So far, this strategy has worked pretty well for Boston, and it's created a fascinating dynamic of a team of veterans in the Cavs having to figure out how to slow down a team that just wants it more. If anything, perhaps these comments from Brown and Morris suggest that Cleveland could stand to goon it up a bit more in Game 3.