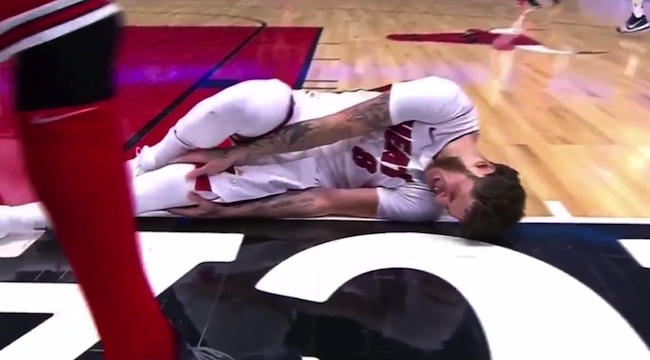 The Heat are quietly one of the NBA's hottest teams, having won seven in a row heading into their Monday afternoon game in Chicago against the Bulls. Miami's streak has been spurred on by an incredibly balanced offensive attack, with eight players averaging in double figures.
Unfortunately for Miami, they've lost starting shooting guard Dion Waiters for the season with an ankle injury that will require surgery and on Monday the Heat backcourt took another hit. Tyler Johnson was supposed to pick up much of the slack left behind by the Waiters injury, but in the third quarter in Chicago he went down with an ugly looking injury.
Johnson drove to the rim in the third and tried to make a tough, leaning shot over Robin Lopez, absorbing the contact but coming down awkwardly on his left leg, sending him crumpling to the floor. Johnson immediately grabs at his left knee and would leave the floor in a wheelchair in obvious pain as he was pushed back to the locker room.

We don't have an official update on Johnson's status, but it certainly didn't look good at the time. Johnson is averaging 12.1 points, 3.7 rebounds and 2.1 assists per game this season and, as noted earlier, figured to step into a bigger role during the playoff push without Waiters. If Johnson is going to miss extended time, it is a major blow to Miami's backcourt depth as they look to lock up a top four seed in the East and homecourt in the first round.