The New Orleans Pelicans may have been swept out of the first round of the playoffs by the eventual-champion Golden State Warriors, but Tyreke Evans, one of a stable of talented Pelicans guards, thinks that there isn't much separating the two teams. From an interview with the Sporting News comes a healthier-than-usual dose of optimism.
"I don't see why we can't [win a championship]," Evans told Sporting News. "We have a great team. I don't see our team any different from the Warriors. I think we're right there, even though this is going to be our first year with coach (Alvin) Gentry. If we push each other and work hard, we can make that next step. It's not going to be easy, but I think we have that chance."
If that sounds crazy to you, then take a closer look at the Pelicans' roster, beyond Anthony Davis. Guards Evans, Jrue Holiday and Eric Gordon have all been considered potential All-Stars at some point (Holiday was an actual All-Star). Omer Asik may be limited offensively, but he's a stout defensive center. When Asik sits, Ryan Anderson comes in as a stretch four and one of the best pure shooters in basketball and an underrated offensive rebounder. Swingman Quincy Pondexter is also an excellent three-point shooter.
Davis, for his part, is on the shortest of short lists for this coming season's MVP award. He's recalibrating what's possible for a 6-foot-11 player in the same way — but in a much different manner — Stephen Curry changed what was possible for shoot-first point guards. If he never improves from last season's performance, he'll be a top-five player for years to come. But all signs point to him getting even better. A team with half the talent of the Pelicans still couldn't be counted out of the playoff picture simply because of how dominant Davis is and could be. But they do have a lot of talent, so they are indeed very dangerous. Then again, they also play in the Western Conference.
There's also the matter of the new head coach, Alvin Gentry. Fresh off winning a title with the Golden State Warriors as their offensive mastermind, he now helms a team stocked with athletes and shooters, and one of the most terrifying pick-and-roll finishers in the league (whose jump shot has improved every year he's been in the league). He could very well be the mad scientist to bring it all together.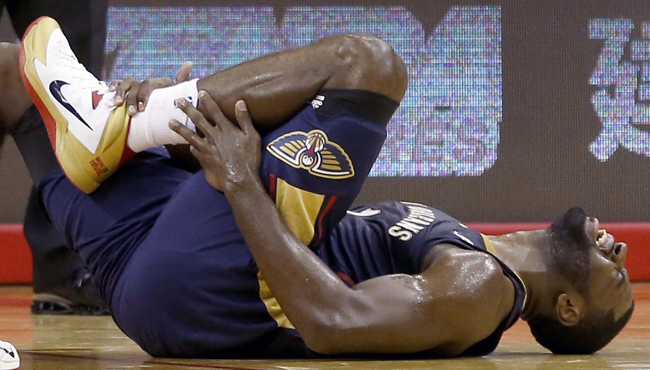 The caveat for all of this is health, as Adi Joseph points out in the interview. Anderson, Gordon and Holiday have missed large chunks of time over the last couple of seasons, and none of them are sure things to get through the year healthy. Of course, an injury to Davis would torpedo this team. But for now, they're healthy.
Maybe Gordon will come off the bench with Holiday and Evans sharing the backcourt. Maybe Evans will shift to small forward, and all three will play together. All of them have averaged at least 17 points per game at one point or another. All of them can handle the ball, distribute and finish, and Holiday and Gordon are above-average shooters. It will be fascinating to see how Gentry deploys them if they're all healthy. If.
Read the whole interview here, because Evans speaks about how he can best be used and how he felt about Monty Williams' firing.
Are they title contenders? After you contemptuously snort upon reading Evans' supposed bluster, remember the Pelicans possess more talent than you might realize.
(Via Sporting News)