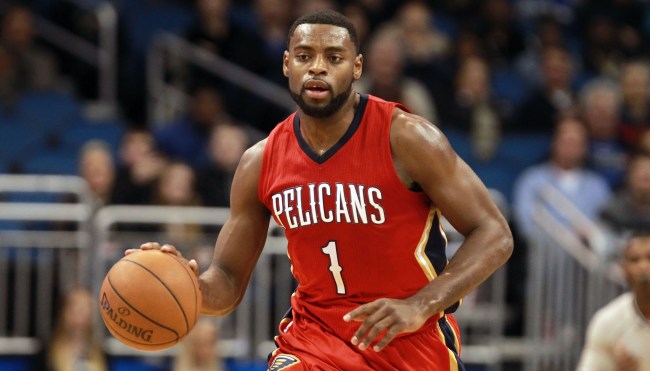 If you've paid any attention to this surprise-filled NBA season, word has probably reached you about the continued growth of Anthony Davis, and the enhanced play of the Pelicans. There is little question New Orleans' success begins and ends with the play of AD. Obvious proclamations aside, no man is an island and beside Batman is — or at least should be — a very capable Robin.
But in the case of the Pelicans, the Robin isn't clearly defined with a red, yellow and green outfit. Three candidates have emerged as a possible ally for the heroics of Davis. Jrue Holiday, Eric Gordon and Tyreke Evans all have, at one point or another, played key roles for the Pellies while simultaneously battling injuries. But it is Evans who has been the healthiest and is making his mark as the most valuable Pelican not sporting a unibrow. It's also gone largely unnoticed.
Even when he asked who was the copilot of this roster, Evans was unsure:
"I mean it's tough. The other two guys [Holiday and Gordon] can go too. I don't think we try to compete and see who is better. We just go out there and try to compete and if one guy is hot that night we just go with the hot hand."
The diplomacy from Evans is refreshing and while it may seem cliché in the same breath, he could easily have a different mindset — especially with the role he's played so far this season. 'Reke is tied for the team lead in games played, is second in scoring at 17.5 points per game, and has done a great job getting teammates involved all season whether Holiday is healthy, or — like he has been for the last 20 games — he's out. Evans is averaging a career-best 6.1 assists and he's adjusted to being the team's Swiss Army Knife on offense.
Since arriving in NOLA, Evans has been asked to play small forward, shooting guard and point guard. These positional assignments have come as both the team's sixth man, and as a starter, with coach Monty Williams looking for the best way to deploy his 6-6 bulldozer.
"It was tough the first year," said Evans. "But I have a better rhythm with the players and the offense this year, so it's better…I just have to pace myself whether I am starting, or coming off the bench. And let the game come to me. But I would rather start."
Evans' fluctuation between reserve and starter has settled, but his best position is still a bit of a quandary for Coach Williams. Evans offered some insight as to where he'd most like to play:
"I'd say at the one is where I am at the best, with the ball in my hands," he said. "If not there, then at the two and I wouldn't really say the three—it's a little out of position, but I can play it."
Playing point guard during Holiday's absence over the last month has seen Evans achieve a great deal of success. He's built an equitable rapport with his teammates by getting everyone else involved in the offense. The Pelicans' top four scorers (not counting himself) receive between 12.6-20.3 percent of the passes he makes each game, showing he knows where the ball needs to go like a good floor general should.
Even when Evans is taking matters into his own hands, he has an understanding of what suits his game the most. He's an avid fan of bowling, like many NBA players seem to be, and you can regularly catch opposing defenders bouncing off him like pins at the bowling alley as he drives the lane for "power strikes."
'Reke leads the league in total drives to the basket this season and averages the most per game. When he gets the rock, and he gets the rock often, you can bet he is taking it to the basket either to finish or kick it to an open teammate. When asked about his propensity to penetrate, Evans was unaware of his league standing, but said it was something that's always been a staple of his game — dating back to high school.
The Pelicans don't currently have a timetable on Holiday's return, but Evans is ready to continue his power-steering ways at point for as long as necessary:
"I don't know the issue with Jrue when he comes back, but I'll be glad to have him back," Evans said. "We work well with each other. While he's out right now, I'm playing the point for the first time since my rookie year and I am trying to hold it down for us to get a lot of wins."
The Pelicans are going to have to earn every win playing in the better conference and arguably the best division from top to bottom in the NBA (MEM, SAS, HOU, DAL & NOR) . Somewhat surprisingly, that reality seems to have tempered team expectations, despite an improving roster and chemistry. Evans admitted that the team isn't necessarily focusing on the playoffs this season:
"We haven't gotten to a point where we're saying we're going to get that eighth spot or seventh spot," Evans professed. "We're just taking it game by game and that's the way you got to take it in the West. It's tough you can't just say you are going to make the playoffs—you just have to take it game by game."
There is honor in that approach, but the Pelicans are on the cusp of the playoffs anyway (as of this writing they're the 9-seed in the West, 1.5 games back of the Thunder), and if the team can ever stay healthy, their cohesion should be even better. The playoffs are a place where Evans and Davis haven't appeared, but their two-man game could work well when defenses clamp down tighter in the postseason.
Are they Batman and Robin? Maybe, maybe not, but Davis and Evans are definitely an emerging duo. There's something cooking in New Orleans, and it has the Pelicans flying higher than many thought they could this season. Evans' play is one of the biggest reasons why they're still in the playoff mix so late in the season and after suffering so many injuries.