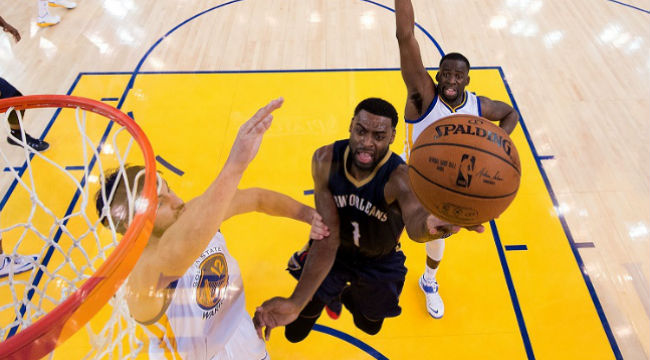 The 2015-16 season for the New Orleans Pelicans took another blow this week. According to a report by Yahoo's The Vertical, guard Tyreke Evans will need surgery on his right knee and is likely done for the season.
Evans had been experiencing discomfort in the knee, but the team had been hoping that with a bit of rest, he could be back after the All-Star break. That's no longer the case and 'Reke is talking to specialists now to discuss his surgery options.
Evans, who had arthroscopic surgery on his right knee in October and missed the team's first 17 games, was averaging 15.2 points, 5.2 rebounds, and 6.6 assists in 25 starts. He was also shooting a career-high 39 percent from three-point range. However, despite those numbers, the team has continued to perform below preseason expectations, and at 6.5 games back of the final playoff spot in the West, it's not likely they will make it back to the playoffs this year.
Evans is not the first Pelicans player to be lost to injury this season. Quincy Pondexter is also out for the year after undergoing surgery on his left knee, and Eric Gordon is currently out with a broken finger.
With both Evans and Gordon out, the Pelicans will continue to lean more heavily on rookie Bryce Dejean-Jones, who has started the team's last seven games.