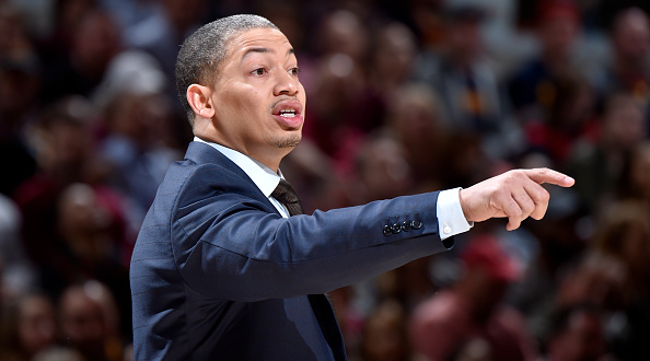 The Cleveland Cavaliers inevitably operate under a tremendous amount of scrutiny. That goes with the territory when you have LeBron James on your team and the expectations every season are basically championship or bust.
The 2017-2018 season brought the upheaval in spades. It started with Kyrie Irving forcing a trade to the Celtics last summer, which was only the beginning as the Isaiah Thomas debacle dragged on all the way to the February trade deadline.
Amid all the inconsistent play, the front office drastically revamped the roster by orchestrating a mega-deal that brought back a slew of young talent, yet with all that talent comes inexperience that could prove costly when the postseason gets underway this weekend.
For head coach Tyronn Lue, it's all par for the course. He's been around the team long enough to know that the stress and uncertainty is simply a way of life for the Cavs. But this year, it finally caught up to him as he was forced to take a brief leave of absence to deal with a stress-related health issue. That explains his obvious exasperation with the never-ending amount of stress, while also highlighting that when it comes time to get it together, they always find a way to do so.
Via Dave McMenamin of ESPN:
Tyronn Lue intially sighed and said he would rather not answer when he was asked what it's like to coach the Clevelend Cavaliers, but eventually gave this pretty insightful answer: "I mean it's just something different every year. You know, just, 'As the Land Turns' is what I call it. Just, it's something every year. Three or four things every season. We always come together, we always find a way, and that's the biggest thing. I think when the playoffs start, you see a different team, you see a different focus and we really come together. So, that's what I'm looking forward to."
The Cavs enter the postseason as the No. 4 seed in the East with a first-round matchup slated against a feisty Indiana Pacers team with a lot to prove. Their route to the NBA Finals is arguably the most difficult it's been since LeBron returned to Cleveland in 2014.
Still, many consider them the favorites to come out the East, given the Celtics' rash of injuries and the Raptors' historic inability to compete against the Cavs in previous years. Regardless, the drama only figures to keep ramping up for as long as the Cavs manage to stay alive this postseason.
(ESPN)