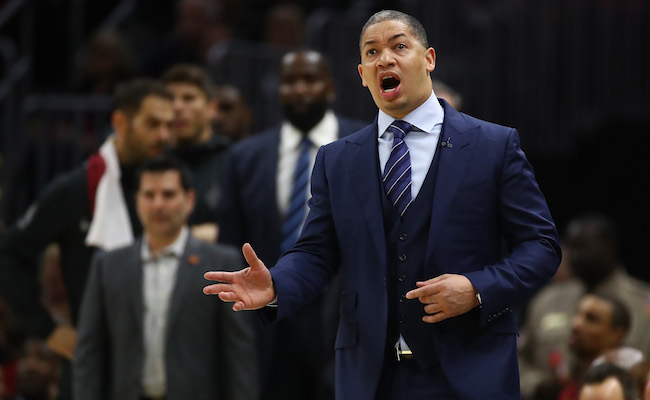 The Cleveland Cavaliers took a seven-point lead into halftime of Game 2 against the Boston Celtics but, from there, everything was downhill for Tyronn Lue and his team. Aside from the stellar play of LeBron James (42 points, 12 assists, 10 rebounds) and Kevin Love (22 points, 15 rebounds), the Cavaliers received very little from role players up and down the roster and that recipe wasn't good enough to sustain success on that road.
With that as the backdrop, Lue was prompted about one reserve option, Rodney Hood, after the 13-point loss and he responded in kind.
Hood famously refused to check in during Game 4 against the Toronto Raptors but the Cavs elected not to discipline the former Utah Jazz swingman, instead deploying him in both of the games in Boston. Though Hood hasn't been singularly horrific, his play also hasn't added much to the table in Cleveland and the question was reasonable as a result. Still, Lue took great exception and, even if he likely isn't overjoyed with Hood's play, his response speaks for itself.
During a third quarter that saw the Celtics outscore the Cavs by a 36-22 margin, there were a few curious lineup choices from Lue and, aside from Hood, some of the reserves (Jeff Green was -17, for instance) struggled mightily in key moments. When the scene shifts back to Cleveland for Game 3, it seems safe to assume that James and Love will receive more help, but the pressure will be on. Based on Lue's comments, he has no plan to remove Hood from the proceedings.