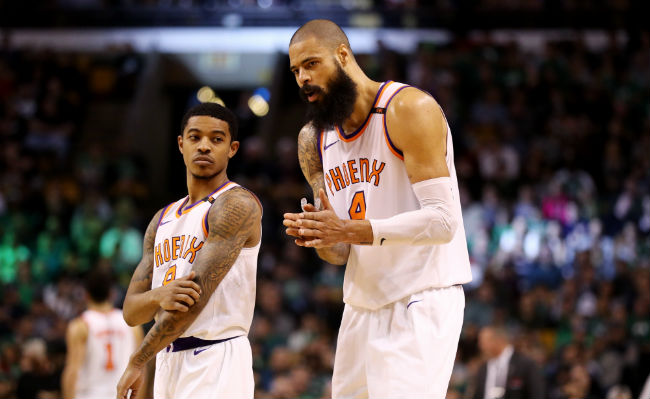 Tuesday night's Grizzlies/Suns game feature two teams wading their way through a season of transition. It also featured a surprising finish, with Tyson Chandler defying the odds — and the clock — and breaking a tie on an improbable set play to steal the win.
Chandler and the Suns executed a perfect alley-oop with just 0.6 seconds left in a tie game to win, 99-97, on Tuesday night. It was a thrilling finish to a game between two admittedly middling teams, but the drama of a close game can sometimes create brilliant moments in basketball.
What's impressive is that the broadcast of the game predicts exactly what happened on the play. "Don't discount the lob to Tyson Chandler," the clairvoyant broadcaster on the Suns TV crew said just moments before the pass comes in just over the basket and Chandler leaps into the air.
https://twitter.com/Suns/status/945878703195615232
Brandan Wright couldn't overpower Chandler down low, and he rose up and dropped it in just before the buzzer went off. There was little controversy to this one: it was called a basket on the floor and replay confirmed that Chandler threw it down for the game-winning basket before the .6 seconds had come off the clock.
Game-winners like these are exciting because they're just so difficult to execute, and so many things could go wrong. But in a position to either win or, at worst, see overtime, the Grizzlies went for it all. And Chandler was ready to deliver.