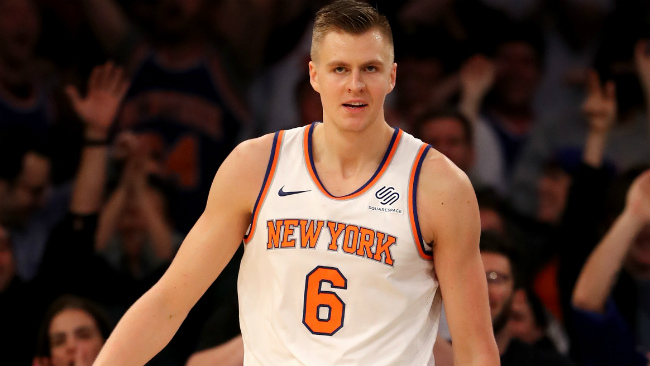 Kristaps Porzingis is extremely good. Everyone always said this was the case, even if during the first two years of his career, he was trying to iron out some of the wrinkles that he had in his game. Plus he was viewed as the second option in New York behind Carmelo Anthony, so he wasn't really the face of the franchise even if he was going to get to that point.
In year three, though, Porzingis has been a monster. He's averaging 29 points and 7.8 rebounds a game for the 4-4 Knicks, and on Friday night, he had one of his most impressive games yet. Porzingis dropped 37 points on 13-for-22 shooting on the Phoenix Suns in a 120-107 New York win. It included what might end up being his most impressive highlight of the season.
After the game, one of the Suns veterans who was tasked with slowing Porzingis down offered some high praise for the third-year big man. Tyson Chandler believes that after watching Porzingis play, he could end up being the best player in the NBA someday.

"Porzingis is special," Chandler said according to Al Iannazzone of Newsday. "He has a chance to be the best player in this league. Watching him tonight and seeing what he's done so far this season, he has a real shot of being the best player in this league."
Chandler spent some time in New York, so it's safe to assume he understands that putting lofty expectations on a player is a dangerous thing to do. Saying this about Porzingis really is a testament to how special of a player he is, and even if he's never able to become the best basketball player on earth, he's showing this season that he's talented enough that he can become an all-time great in the city that never sleeps.