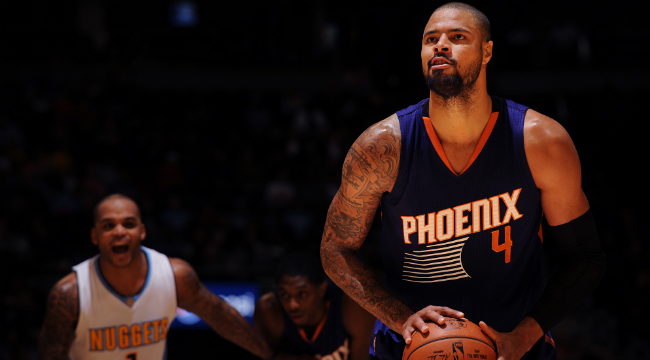 When the Dallas Mavericks went all-in to pursue DeAndre Jordan as their franchise center, they knew that it meant supplanting veteran Tyson Chandler, a very good player in his own right. The Mavs wanted to get younger, however, and they saw Jordan as the franchise-changing talent they needed. When Jordan spurned them, Chandler had already gotten the message and walked out the door. He was justifiably offended at the message that he wasn't the center the Mavs wanted most of all, as he told the Dallas Morning News.
"I didn't feel like I needed to play second fiddle to anybody," Chandler said Wednesday before the Suns-Mavericks game. "I felt like I didn't deserve that. I felt like I'd accomplished a lot in this league and I wasn't going to play second fiddle to anybody."
The Mavericks let Chandler walk to the New York Knicks after he anchored their defense en route to an NBA title in 2011, and after getting him back via trade before last season, it must have felt like deja vu to Tyson to see the team once again fail to commit to bringing him back.
"When all of it was happening, quite honestly, it wasn't about the money or the offer or anything like that," he said. "The part I was frustrated with is the legacy I wanted to leave here with this city and organization. At the time, I felt like I was robbed of that. That's what hurt the most. It took awhile to get over that, to be quite honest."
Mavs head coach Rick Carlisle responded how you'd expect, by extolling what Chandler did for the Mavericks and declaring his utmost respect for the man. Carlisle even went so far as to suggest Dallas retire Chandler's number, even though he only played two seasons with the team. (He also made sure to point out that personnel decisions are not up to him.)
Carlisle can say whatever he wants, but the Mavs made their position clear with their pursuit of Jordan, and Chandler went to Phoenix, where he will provide rim protection, pick-and-roll diving and veteran leadership for an intriguing Suns team. An engaged and healthy Chandler is an incredible asset for any team, and he will have something to prove this season. The Mavericks, meanwhile, are left without Chandler, without Jordan, and with only regret at the center position (and JaVale McGee).
(Via Dallas Morning News)