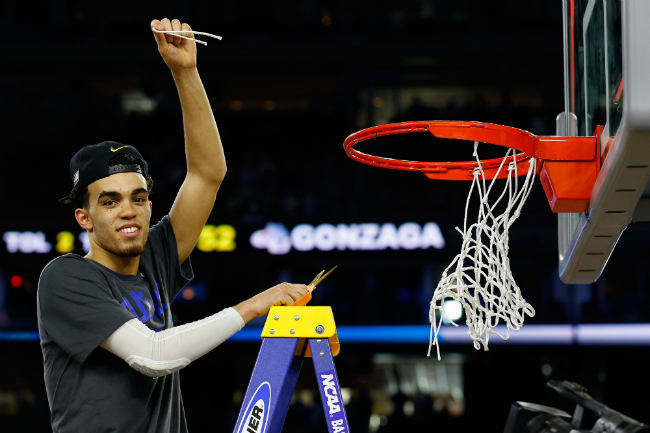 Tyus Jones isn't lacking confidence, and that much has been clear all year long. The Duke freshman has hit big buckets in big moments throughout his freshman campaign, so it's no surprise he called his shot about the Blue Devils making it to the Final Four before he even played a game.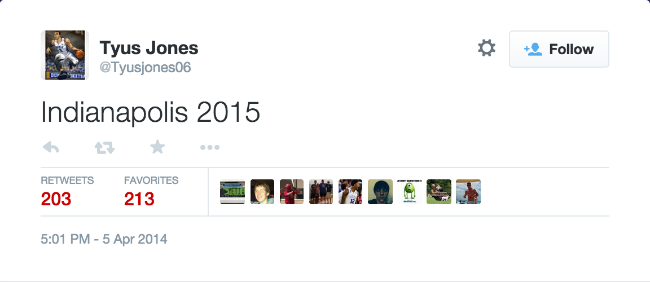 Check the timestamp on that tweet – that's April 5 of last year, when the Final Four games were about to tip off. Fast forward a year later, and Duke is in Indianapolis now just two games away from a title.  Jones is averaging 11.5 points, 5.5 assists, three rebounds and two steals in the NCAA Tournament, and even though he often gets overshadowed by other freshmen Jahlil Okafor and Justise Winslow a bit at times, he is a huge part of the reason why the Blue Devils are in the Final Four in the first place.
The freshman carries himself like an upperclassman on the court and in the locker room, and he's got a brilliant mind for the game. He and Okafor committed to Duke as a package deal, and their close relationship allowed them to gel quickly on the floor on a team that is as close as any Blue Devils group in recent memory.
Jones made good on his tweet from a year ago, and maybe it's worth hitting him up for some ideas for lottery numbers too. He might just be that prescient.