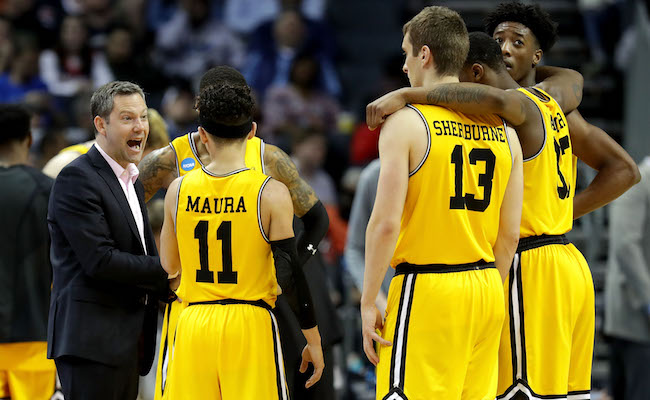 Opening weekend of the 2018 NCAA Tournament was an exercise in insanity. Double-digit seeds (Syracuse and Loyola-Chicago) made runs to the Sweet 16, Nevada executed a 22-point comeback in the second half to pull off an upset and, before that, Buffalo and Marshall pulled off what would be described as incredibly impressive upset victories. With that said, the biggest story of them all was the work of the UMBC Retrievers, who eviscerated No. 1 overall seed Virginia in the opener to make history as the first No. 16 seed ever to advance to round two.
That victory spawned reactions from every corner of the sporting world and even created something of a social media sensation from the program's own Twitter account. Unfortunately, though, UMBC's run stalled on Sunday evening, as the underdogs were unable to recapture the magic in what became a 50-43 loss to No. 9 seed Kansas State.
There was real excitement in the early going, when UMBC took a 7-0 point lead and flashed signs of the defensive potency that helped to topple Virginia. In fact, Kansas State did not score a single point until the 13:40 mark of the first half but, in retrospect, the Retrievers needed to build a larger lead than the seven-point margin that came with that effort.

UMBC did build an eight-point lead in the first half but, in short order, the more talented team took control in Kansas State. The Wildcats zoomed to an eight-point advantage of their own before halftime and, even with UMBC battling back to within one on multiple occasions, the favorites never again trailed.
Standout guard Jairus Lyles did knock down a three to bring the No. 16 seed to within one point with approximately six minutes remaining and, in true UMBC fashion, they never stopped battling. Still, it was a lack of offensive execution (really on both sides) that would halt their efforts and there were plenty of examples of what this contest became. After shooting the lights out against Virginia, the Retrievers shot a dismal 29.8 percent from the field against the Wildcats.

Later, Kansas State's Xavier Sneed punctuated the win for the Wildcats with a dunk that reemphasized Kansas State's more talented nature.
UMBC's seven-point loss in round two should do absolutely nothing to overshadow what was an epic performance in the opener and, all told, the Retrievers kept their second game closer than the experts (at least those in Las Vegas) projected. This was a memorable story that will live forever in NCAA Tournament lore and, in short, nothing UMBC was unable to accomplish against Kansas State will take away from that.