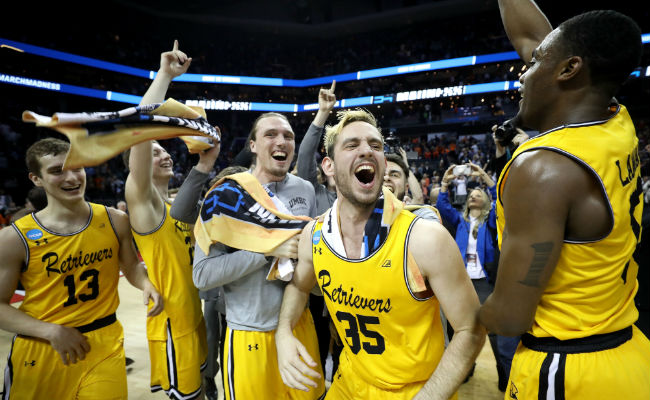 History that some thought might never happen finally did on Friday night, as the No. 16 UMBC Retrievers stunned No. 1 Virginia in the first round of the NCAA Men's Basketball Tournament.
Not only did UMBC win, they blew out one of the best teams in the country, going from tied up at 21 at the half to a stunning 74-54 win in the greatest upset in tournament history.
The UMBC Twitter account had the time of its life during the game, as it should when the Retrievers beat the best defense in the country on Thursday to the tune of 20 points. And the NBA world certainly noticed history being made. While Arizona alums in the NBA were furious when they got upset by Buffalo on Thursday, most of the Association was loving the Retrievers toppling Virginia. https://twitter.com/VicOladipo/status/974849383933112320
Praise was high for Jairus Lyles, who was stellar for UMBC on Friday night.
John Henson loved this game, gleefully Tweeting his way through the night as UMBC held off and then built a lead against Virginia.
Seriously, he was feeling the Retrievers on Friday night.
Chandler Parsons wasn't worried about his bracket; he loved seeing history get made.
Jared Sullinger was down with it, too.
Frank Kaminsky understood the improbability of what was going down.
Cory Jefferson was out there rooting for busted brackets.
Jarrett Jack was concerned about brackets, too.
Spencer Dinwiddie threw in a "sheesh" and shouted the Buffs after watching what UMBC did to one of the nation's top teams.
Al Horford claimed to have known all along, though we'd like to see some receipts on that one.
A lot of players were just in shock, or at least felt like their followers needed a news update.
Landry Fields was fed up.
So was Mike Scott, a UVA alum.
Another UVA player, Justin Anderson, got roasted by Reggie Bullock as his team was going down in flames.
Ian Clark, much like the rest of us, just couldn't believe the deficit.
But it happened. Virginia lost to UMBC, and those watching finally got to see a piece of NCAA history.