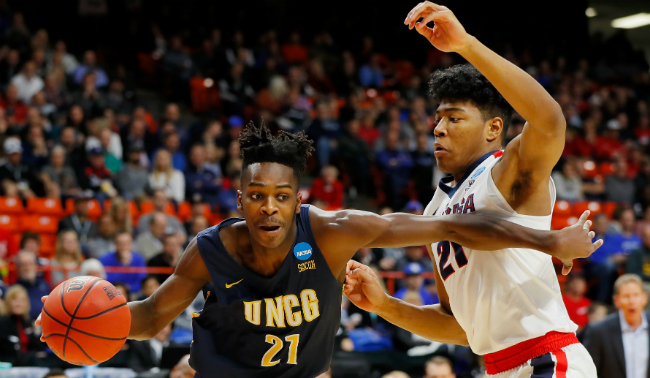 The first day of the NCAA Men's Basketball Tournament nearly got its first big upset on Thursday afternoon, when No. 4 Gonzaga barely got past No. 13 UNC Greensboro to open the day in Boise.
Gonzaga got the 68-64 win after a wild closing stretch that saw the Zags on the ropes in the final minutes before freshman guard Zach Norvell Jr. hit a huge three inside 30 seconds to go to put Gonzaga in front for good.
The Southern conference regular season and conference champions put up an impressive fight in a game that saw a number of ties down the stretch, thanks to Greensboro continuing to find ways to find space against the Zags. Gonzaga, meanwhile, struggled from three, going just 5-for-23 behind the arc. That's a formula for an upset, especially when UNC-Greensboro sophomore forward James Dickey (10 points) got going late.
https://twitter.com/marchmadness/status/974365239469895681
UNGC kept it close throughout the second half and took the lead inside of two minutes on a Jordy Kuiper tip inside.
Josh Perkins came back for Gonzaga to tie the game at 64, and after a miss for the Spartans, freshman guard Norvell Jr. hit a huge three to put Gonzaga back in front, 67-64 with 20.8 to play. Look at the onions.
Gonzaga then drew an offensive foul on the inbound after a UNCG timeout, but the Zags bricked two straight free throws to give the Spartans a chance to tie. This is where the 'narrow' comes in for the Zags. Look at how close this Marvin Smith three with 12 seconds left was to falling through for the tie.
Senior Jonathan Williams led Gonzaga with 19 points and 13 rebounds, while Josh Perkins had 16 and Norvell Jr. had 15 in the win. Norvell finally hit a free throw for the Zags to seal the win and help them move on, while viewers hungry for upsets moved on to games later in the schedule. It was a good start to the tournament, though, especially after an overtime thriller that saw Rhode Island knock off Trae Young and the Sooners started the day.