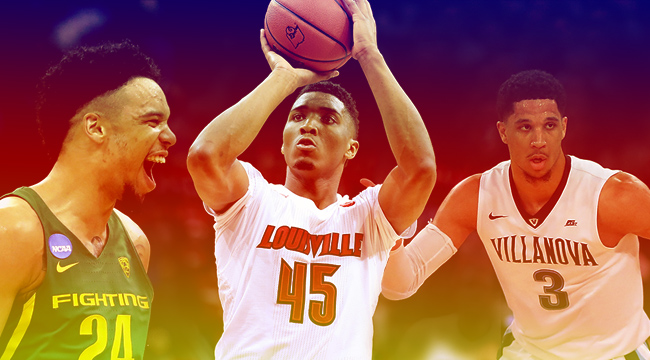 Every year, we seem to come across four to five players that look to be better than their draft grades. Last year, Malcolm Brogdon, Willy Hernangomez, Thon Maker, and Patrick McCaw all outperformed their respective expectations. This year, there could be even more based on the depth and talent in the 2017 draft.
Obviously the lottery is where you hope to find instant impacts, but further down in the first round – and even in the second – there are ready-made NBA players to be had. Maybe they're a bit shorter, a bit older, or their ceilings aren't as high, but NBA teams continue to find value throughout the draft (and even with undrafted free agents).
DIME decided to list a few of our favorites from this year and why they could have star potential.
Josh Hart – Lakers
Hart is a veteran in comparison to most draft prospects. At the age of 22, the senior out of Villanova comes with age but is arguably the most NBA ready of the bunch. He won't blow you away with athleticism, speed, or sheer physical traits, but Hart can produce right out of the gates, and he possesses what many teams in the league need: shooting and defensive ability.
He went 129-17 in his Villanova career and has won numerous awards for his exemplary play. But, even with all that, he's still wasn't projected as a first-round pick in many mock-drafts. (Although he eventually went 30th overall.)
"I'll let the experts determine (if I'm the best player in the draft)," Hart told DIME before the draft. "If you are talking about skill set and unique ability, then I know I am. Right now, the draft is about the number of young, freak athletes and who will potentially get picked first. But, when it comes to basketball players, ones who can make an impact in the game and help a team win games, those guys are picked late. Like many of the prospects, I feel I am one of the best and can't wait to put my talents to work with an NBA team."
Hart, as confident as any, has proven he can score agressively, shoot a high percentage, and defend. His knack for doing whatever his team needs is going to translate into a proven commodity in the league. Hart still needs to work on his ability to create off-the-dribble, defend NBA-level talent, and stick with his man through multiple screens and plays. But with his elite vision, it allows him to gain an edge even without the lack of athleticism that some may have.

Donovan Mitchell – Utah Jazz
Mitchell possesses some of the best intangibles of any drafted player. He's another potential 3-and-D type of player with explosive plays and athleticism. His shot is pretty, but his defensive ability and potential are the difference makers for Mitchell. An All-ACC First team player, Mitchell's size could be a problem (he's just 6'2).
"My defensive intensity and the fight that I have (separates me from others)," Mitchell told DIME. "A lot of people consider me undersized but that just means I'm going to go out and work harder."
With many prospects who are highly touted, recruited, and wanted through high-school and college they want to play right away. However, with Mitchell, the goals are much different.
"For me, I want a championship." Mitchell said. "Of course, I want to contribute and I want to produce. But, I just want to help my team in whatever way possible and win. If I had an individual goal it would be making the all-defense first team."
Utah may have lost George Hill, but with Mitchell as the replacement it's hard to be worried. He's going to be a player to look out for in the next few years.

Dillon Brooks – Memphis Grizzlies
Brooks is a strong-bodied offensive talent who earned Pac-12 player of the year honors. He can use his size to create his own shot or penetrate the lane aggressively, making defenders bite when they shouldn't. His wingspan, height, and age are certainly less than ideal, but the closest comparable to his frame is a player like Draymond Green. A virtually positionless player, Brooks has made it work in Oregon's system and could do the same with a player-friendly coach like David Fizdale in Memphis.
With the potential losses of Zach Randolph and JaMychal Green, Memphis may be looking for the stretch-four or forward of the future and Brooks fits that mold. His competitive drive, work-ethic and intangibles will help him evolve and grow as he plays against other NBA players. If there is a red flag, it's on the other side of the basketball where he struggles at times to guard bigger forwards.
In a system like Memphis, Fizdale will have to find ways to hide him on defense and work to improve that area of his game.That said, there's no doubt that Brooks will be an offensive nightmare for opposing teams.
Frank Mason III – Sacramento Kings
Mason was a player who has everything you want in a point guard. He's a natural leader, works incredibly hard, can shoot lights out, and is extremely versatile given his size. The big question mark for Mason was his age. At age 23, Mason certainly isn't the youngest player in this year's draft but can still grow and improve playing against NBA talent.
We had multiple league sources tell us that Mason was a player who impressed in workouts and made an impression. Based on where he ended up being picked (34th overall), it was evident that was the case. He shot up draft boards and for good reason, he's a fierce competitor with a strong, aggressive offensive approach.
While DeAaron Fox will be the guy moving forward in Sacramento, Mason could be a great rotation player for a young Kings team that needs a locker room presence and leader. With his outside shooting ability and protective, instinctual ball-handling, he's a perfect play for Dave Joerger and company.

Zach Collins – Portland Trail Blazers
Portland was bashed by many when they decided to take Zach Collins, the freshman out of Gonzaga University. However, many haven't seen enough of Collins to know how much potential this kid has. His father was a basketball player and coached the likes of Kevin Garnett. He has a tendency to accumulate fouls quickly but for a young, developing center, that is not atypical. His post-moves and ability to read the game are at a level that few bigs in any draft can touch.
Collins possesses a 7'1 wingspan and can ferociously block shots. In the NCAA Tournament, Collins averaged 3 blocks per game and his rim protection was stellar. Athletically, he may not be the prototypical small-ball five, but he's close to it. He doesn't shoot enough of the outside shot for you to think he's going to be stretching the floor much, but his face-up and mid-range games are mechanically sound.
At only 19, he's got offensive tools that make you want to see more and while his defense needs to improve, he's got instincts that make you think he can really develop with an NBA training staff.