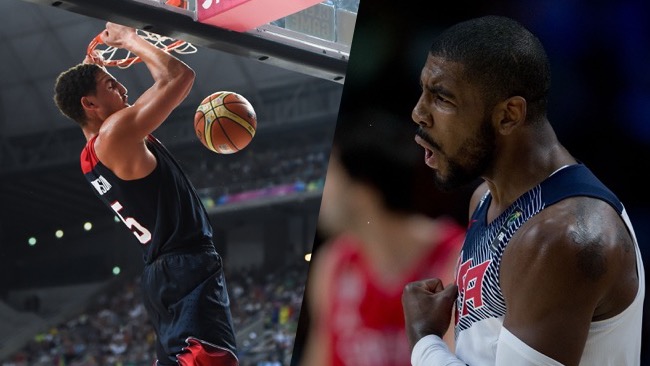 LeBron James is out; Same with Kawhi Leonard; Damian Lillard isn't going to Rio because of rehab and more than a bit of disgruntlement. Two-time MVP and zero-time Finals MVP Steph Curry is out. You can add Clippers Chris Paul and Blake Griffin, plus LaMarcus Aldridge, James Harden, Anthony Davis, and Andre Drummond to that list, too. A lot of guys aren't going to Rio this summer for the 2016 Summer Olympics, but — as a testament to the strength American professional basketball — the 12 guys who are going are pretty darn good.
Five guards, five forwards and two centers are making the trip, and we really like what the final group looks like:
G-Kyrie Irving
G-Kyle Lowry
G-Jimmy Butler
G-DeMar DeRozan
G-Klay Thompson
F-Kevin Durant
F-Carmelo Anthony
F-Harrison Barnes
F-Paul George
F-Draymond Green
C-DeMarcus Cousins
C-DeAndre Jordan
If you're curious, we think they continue to dominate international competition and again win the gold medal. The USA men's team hasn't lost a game at the Olympics since Larry Brown was coach of the 2004 team in Athens, Greece that won bronze. They haven't lost at the FIBA World Cup since 2006 in Japan under Mike Krzyzewski. After the aura of the original 1992 Dream Team wore off in the early aughts, Jerry Colangelo and Mike Krzyzewski have turned the program around with a more diligent selection process, and the results speak for themselves.
Look at that group above. If you're worried about perimeter defense you've got Klay Thompson and Jimmy Butler. For D on the wing, you've got Paul George hounding opposing slashers and Kevin Durant as your small-ball four protecting the rim. Then there's a pissed off Draymond Green. Do you really think anyone is scoring on a pissed off Draymond Green guarding all five positions? DeAndre Jordan is a menace at the rim for opposing guards, too. That's just on defense.
Do we need to even get into the offensive side of the ball?
We picked our own dream team in January, and five of those 12 picks made it to this squad: Draymond Green, Kevin Durant, Jimmy Butler, Paul George and DeMarcus Cousins.
But we love this team a lot, too. America does a lot of things wrong, but basketball surely ain't one of them.
(H/T SB Nation)