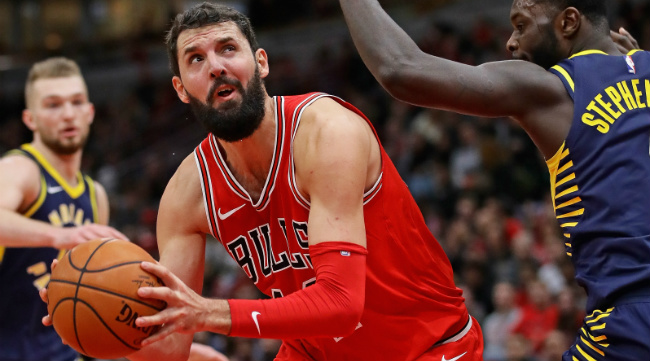 It seems like a forgone conclusion that Nikola Mirotic will not be a member of the Chicago Bulls once the NBA's trade deadline passes. The Bulls are reportedly doing what they can to ship the sharpshooting power forward, who is still willing to waive his no-trade clause to facilitate a move from the Windy City.
Utah has been mentioned as a potential destination for Mirotic, partly because Mirotic is reportedly a fan of the Jazz's head coach, Quin Snyder. Whether the Western Conference squad is ready to part a first-round pick for Mirotic remains to be seen, but according to a report, they've decided to offer a player in a deal.
Tony Jones of the Salt Lake Tribune writes that Utah would be willing to part with veteran big man Derrick Favors in a move for Mirotic. Beyond that, the two teams have reportedly had discussions around a deal centering around those two big men.
The Salt Lake Tribune has confirmed that Utah is engaged in talks with the Chicago Bulls on a deal that would bring power forward Nikola Mirotic to Utah. Jazz forward Derrick Favors has been discussed as a potential piece that would go to Chicago, according to multiple sources.

Other reports Tuesday suggest the Bulls want a first round pick as compensation for Mirotic, something they have inquired the Jazz about.
Additionally, Jones wrote that talks between the two teams are "past the preliminary stage and getting serious."
This would be an interesting trade in that Mirotic would bring the Jazz some more shooting — Utah is 10th in attempted threes per game and tied for 11th in three point field goal percentage — while Favors would give Chicago a solid veteran in return. Whether Chicago would be willing to take Favors in a straight-up swap or if they'd stand firm in their desire to get a pick back remains to be seen, but it seems like Utah really wants to bring Mirotic on board.