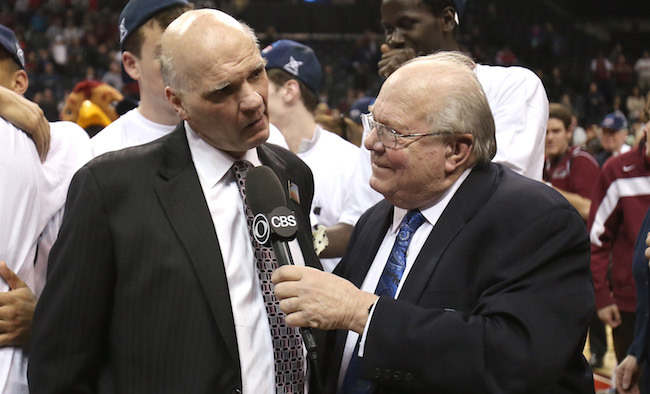 Verne Lundquist is a legend in sports broadcasting, but at 77 years old he's begun understandably cutting back on his workload. First, he stepped out of the SEC on CBS booth he occupied for nearly two decades, ceding his spot as lead play-by-play man to Brad Nessler.
Now, Lundquist will be missing the NCAA Tournament for the first time in two decades, as CBS announced its announce teams for March Madness on Monday and Lundquist was not included. According to the New York Post, Lundquist made the decision to pull himself off of the broadcasts, citing his recent back surgery in November and the rigors of broadcasting four games in a day.
The 77-year-old Lundquist, a source said, felt it was the right time to step away following back surgery in November. The travel grind of March Madness and the challenges of calling four games in one day as announcers do during the opening round of the NCAA Tournament were the reasons for the decision.
It's more than understandable that Lundquist would step away from his post, but it will still be strange to not have him on the call. He's given us some iconic tournament calls over the years, none more memorable than that of Christian Laettner's shot against Kentucky.

In Lundquist's place, Ian Eagle will join Jim Spanarkel and Allie LaForce on the call through the regional finals for the first time, while Brad Nessler will take play-by-play duties for the opening weekend next to Steve Lavin. You can see the full list of broadcast teams below, with the top four doing the first two weekends (with Nantz/Raftery/Hill/Wolfson on the Final Four) and the bottom four doing the opening weekend of games.
Jim Nantz / Bill Raftery / Grant Hill // Tracy Wolfson
Brian Anderson / Chris Webber // Lisa Byington
Ian Eagle / Jim Spanarkel // Allie LaForce
Kevin Harlan / Reggie Miller / Dan Bonner // Dana Jacobson
Brad Nessler / Steve Lavin // Evan Washburn
Spero Dedes / Steve Smith / Len Elmore // Ros Gold-Onwude
Andrew Catalon / Steve Lappas // Jamie Erdahl
Carter Blackburn / Debbie Antonelli // John Schriffen